Cameras
Mother's Day Gift Guide
A consumer buyer's guide to the top five digital cameras, photo printers and digital accessories for Mother's Day.
May 3, 2007 – If you're looking for the perfect Mother's Day gift, we have the gift guide for you. According to a recent study, digital** cameras top moms' wish lists. From the shutterbug to the digital amateur, we've got picks for every mom.
According to a national study conducted by Circuit City Stores, Inc., roughly 20 percent of mothers would like to receive a digital camera as their Mother's Day gift. In a survey of 3,000 mothers and fathers in the U.S., consumer electronics ranked high on moms' wish lists, with digital cameras ranking first. Other top gift choices include flowers (16 percent), a camcorder (16 percent), a DVD or CD (12 percent), and an MP3 player (9 percent). Only 1 percent chose candy as their ideal Mother's Day gift.
Nearly half of the moms surveyed would like to upgrade or buy a new digital camera. According to the survey, moms seek a higher picture resolution (55 percent), faster shutter speed (18 percent), better lens (14 percent), and smaller design (13 percent).
See DigitalCameraInfo.com's selection of digital cameras, photo printers, and accessories.
Top 5 Digital Cameras for Mom

**

**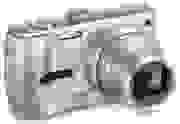 Point-and-Shoot Ultra-Zoom Camera
For the mother who wants to get close to kiddie action, the 7.2-megapixel Panasonic Lumix TZ3 ($349.95) is a largely-automatic camera with a 10x optical zoom Leica lens with optical image stabilization. With its 28-280mm focal length, the lens is capable of both wide and zoom shooting. The camera is fitted with a 3-inch LCD screen and has a sensitivity of ISO 1250 with a high setting of 3200.
Equipped with a Venus Engine III processor, the camera has a system called Intelligent ISO Control that reduces blurry photos by increasing the ISO setting and shutter speed in fast-moving situations, such as sports. Users can also record movies in wide format at 848x480 at 30fps. The Panasonic Lumix TZ3 is available in blue, black, and silver.
The Sony Cyber-shot DSC-W55 ($200) is an entry-level point-and-shoot model that comes in four colors – pink, blue, black, and silver – making it a stylish accessory to any outfit. The 7.2-megapixel camera comes with Sony's standard Carl Zeiss 3x optical zoom lens and a 2.5-inch LCD screen.
Geared for beginner photographers, this Cyber-shot includes a Function Guide that offer a text explanation of each item in the menu. The camera has a sensitivity range up to ISO 1000 and features Sony's Clear RAW Noise Reduction system that reduces picture grain. It also records VGA-resolution movies at 640x480 at 30fps.
The Pentax Optio W30 ($299) is the latest in the manufacturer's waterproof W-series. The camera is waterproof and dustproof, which could also be called kid proof.
For beach days, moms need not worry about dropping their camera in the water. The W30 can be submerged in up to 10 feet of water for 2 hours, without the use of an additional camera housing.
Designed for underwater shooting, the Optio W30 has face recognition technology that detects human faces and adjusts focus and exposure accordingly. In addition, the camera has a high sensitivity of ISO 3200 for low light situations.
The W30 also shoots video at 640x480 at 30fps and has an auto-lock battery compartment that prevents the battery from getting wet. Just in case, the camera also features an Image Recovery function allowing a photo to be retrieved if it's mistakenly deleted by a child (or parent).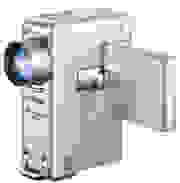 Hybrid Camera
The Canon PowerShot TX1 ($499) is Canon's first digital still camera that also records high definition video. Movies shot with the TX1 can be played on an HDTV via an audio/visual cable. The 7.1-megapixel hybrid camera can record a maximum of 4GB depending on the memory card, even at the high definition resolution (1280x720 at 30fps) in wide 16:9 screen format.
The TX1, which features a 1.8-inch flip-out screen, is designed to be held vertically. The camera is fitted with a 10x optical zoom lens with optical image stabilization to prevent blur, and a maximum sensitivity of ISO 1600.
The TX1 features the company's Digic III image processor, which includes face detection AE/AF, helping users keep faces in pictures and movies properly focused and exposed.
The Nikon D40 DSLR is not only the manufacturer's smallest SLR but is one of the lowest-priced DSLRs on the market. The Nikon D40 kit, which includes a 3x 18-55mm f/3.5 lens, retails for $599. The camera's light weight (1 pound 1 ounce), makes it portable. It includes both automatic and manual functions, giving users the option to either quickly snap a picture or explore more creative options.
Geared for new SLR users, the 6.1-megapixel Nikon D40 has built-in Help guides, live previews of each function, and a customizable interface. The D40 also includes in-camera editing functions to alleviate computer editing time. The DSLR features a 2.5-inch LCD, basic 3-area auto focus, and 8 Vari-Program auto preset modes.
**Top 5 Photo Printers for Mom

**The perfect complement to mom's new digital camera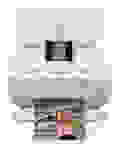 Colorful Printer*

*The Canon Pixma mini260 Photo Inkjet Printer allows users to print photos directly from their cameras, memory cards, Bluetooth devices, and camera phones, eliminating the need for additional wires. The Pixma mini260 has a 2.5-inch LCD to view and edit photos. The multi-function control panel includes a scroll wheel, Canon's nod to the iPod.
This Canon printer has a generous 9600x2400 dpi resolution, higher than most standard compact photo printers.
The printer's side panels come in a variety of colors including red, blue, and purple. The Canon mini260 weighs less than 5 pounds and features a purse-like handle for easy carrying. Like many portable printers, a
battery is not included in the mini260 price of $149.99, but can be purchased.
The Epson PictureMate Snap PM240 inkjet photo printer has a lunch pail-like design that lends itself to portability - perfect for the mom-on-the-go. Epson is currently offering a Mother's Day special bundle for $199.99 that includes a rechargeable battery, carrying case, and 150 Print Pack with ink. The printer can be bought alone for $129.99.
The Epson PM240 features a 2.5-inch LCD screen and has Blue-tooth capabilities. Users can bypass computer photo editing using the printer's built-in editing functions, which include cropping and red-eye correction tools. The PM240 is capable of printing a 4x6-inch print in 45 seconds.




Large LCD Printer
The Sony PictureStation DPP-FP90 is dye sublimation printer priced at $199.99. The 3.6-inch LCD has a 230,000 pixel resolution and flip-up capabilities, perfect for in-printer editing. The Sony FP90 has an auto touch-up button for one-touch red-eye and focus correction.
The PictBridge-compatible printer has a 45-second print rate for a 4x6-inch image with a memory card or 56-second print rate with camera connection, according to the company website.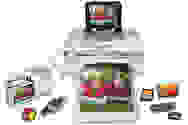 Small Printer with Options
The Kodak EasyShare Photo Printer 500 ($149.95) is an option for users who want more control. This Kodak dye sublimation printer offers four print sizes and four color modes. Users can choose to print one 4x6, two 3x4s, four 2x3s, or nine 1.3x2-inch photos in different colors, including natural, enhanced, sepia, and black-and-white.
The EasyShare Photo Printer 500 features a large 3.5-inch LCD, Kodak's signature Perfect Touch Technology, and wireless capabilities. The printer has a 300x300 dpi resolution and a print speed of 60 seconds, according to the company website.
Versatile Printer
The Canon Pixma iP90v inkjet photo printer is designed to fold up like a laptop computer. Retailing for $249.99, the Canon iP90v is ideal for the mom who wants to print documents and family photos from the same printer. The iP90v can print directly from a PictBridge-enabled digital camera or DV camcorder.
Mom can print color images at a 4800x1200 resolution or text documents at 600x600 dpi resolution. The printer weighs only 4 pounds and has a print rate of 81 seconds for a 4x6-inch photo, according to the company website. The iP90v can also print a variety of sizes from credit card-sized to legal document length.
Top 5 Photo Accessories for Mom
If the thought of a gadget sends mom running for the hills, there are other photo-related gift options that may suit her taste.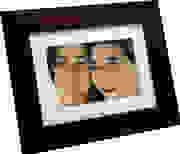 Digital Frames and Keychain Viewers
Digital frames and key chain viewers may be a nice present for moms who don't like to deal with complicated digital equipment but still want to display photos on the mantel or keep grandkids' pictures close to her heart. Digital photo viewers range in size from postage-stamped-sized key chains to 15-inch framed screens. Many can display photos, videos, or even play music by inserting a memory card or through a wireless connection.
In the last few years, an onslaught of manufacturers including Kodak, Pandigital, Parrot, Ceiva, Fidelity, and Brookstone have introduced a variety of digital frames to the market, bringing down prices and offering more advanced features. With a price range from $50 for a keychain viewer to $500 for a large-format frame, buyers can opt for features such as leather frame borders or Blue-tooth capabilities.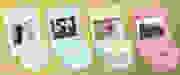 Photo DVD
If mom or grandma prefers viewing their photos on the boob tube, another possible gift idea is the Photo DVD. Prices start at $20 at online retailers such as Kodak EasyShare Gallery or DotPhoto.com. DVDs may also be found at local retailers.
**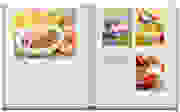 Photo Books

**Instead of giving a batch of loose photos to mom, you can present her with a bound printed book. Gift givers can create portfolio books, cookbooks with family recipes and photos, baby books, or even blog books with personalized text and covers.
Prices range from a low price of $4 for a 5x7-inch book and go up to more expensive leather-bound, large-format books, all available at online photo sharing sites such as Kodak EasyShare, Snapfish, Shutterfly, and Blurb.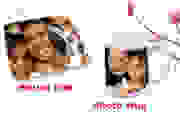 Household Memorabilia
Photo gifts don't stop there. Photos can be printed on virtually any common household item including mugs, calendars, T-shirts, blankets, handbags, posters, and postage stamps.
Most free photo sharing websites offer some gift options, including Webshots, Yahoo Photos, DotPhoto, and Google's Picasa. Prices typically start under $20.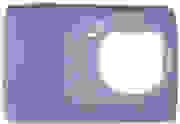 Camera cases
Camera cases aren't as boring as they used to be. Consider a stylish camera case for the lady in your life. Camera cases range in price but start at $15 for Olympus-made silicon camera skins, which protect digital equipment. HP devotes an entire website to its plethora of cases, from faux croc design to Italian cowhide, at under $100. Consider designers such as Coach and Zac Posen for a high-end camera case.