Cameras
Movie Edit Pro 14 and Reallusion Crazy Talk 4 Bundle
The Movie Edit Pro 14 from Magix now ships with a free copy of Reallusion Crazy Talk 4 worth £29.9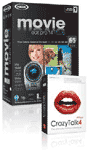 The Movie Edit Pro 14 from Magix now ships with a free copy of  Reallusion Crazy Talk 4 worth £29.9. For the uninitiated , the Movie Edit Pro 14 is a movie editing application that is also equipped with tons of image editing options courtesy MAGIX Xtreme Photo Designer . GIX Movie Edit Pro 14 PLUS with free full version Crazy Talk 4 is available from 1st May at SRP £59.99 inc from all major UK retailers and online partners including Amazon and PC World.
Features
• Professional video cut: 67 additional tracks, 3D design, individual effect automation, virtual dub interface, TV ad remover plus more effects, sounds etc
• Full HD support.
• High-end dubbing; 5.1 Dolby Surround with Dolby Digital Creator, Audio mastering Suite, Beat recognition, 2 synthesizers, Music Editor and more.
• Advanced CD/DVD authoring. Create various disc formats, burn high resolution HD DVD format onto low cost recordable blank DVDS.
• Cover and label printing tool.
• New full AVCHD camcorder support – optional plug-in for Flash video export.
• Archiving of photos, projects and videos on the new mass storage blu-ray Disc.
• Video screen capture lets you record web movies directly from the screen to disk.
• New 1 click publishing of the entire DVD project as an interactive, high-resolution PC show.
• MAGIX Xtreme Photo Designer 6 – tons of image editing options.