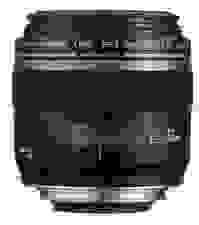 February 17, 2005 – With the release of the Digital Rebel XT comes an additional EF-S 60mm f/2.8 macro USM lens. Canon's EF-S series lenses apply to cameras with APS-C sized CMOS sensors. Among these are the EOS 20D, Digital Rebel and Digital Rebel XT.
According to Rudy Winston, manager of technical marketing, CIG Camera Group at Canon USA., "the 60mm macro lens mimics the performance and feel of the classic 100mm f/2.8 macro lens that film SLR users have been relying on for years."
The camera employs a 1.6x magnification factor, effectively increasing the equivalent focal length to 96mm. There is a floating interior focusing configuration that enables two elements to move on individual tracks while one remains fixed. This mechanism is constructed to correct aberrations and errors obtained when focusing. A Super Spectra treatment has also been applied to the glass to reduce flash and improve color accuracy.
The 60mm macro USM EF-S lens focuses to infinity, providing flexibility in the type of shots that can be attained. With a fast aperture, the lens focuses to infinity, offering substantial low light capture capabilities as well as some depth in the shot when desired. When the opposite is sought, the EF-S 60mm macro lens can function as an ideal portrait lens, blurring the backdrop to emphasize the figure. Winston iterates, "most serious enthusiasts have found for years that the 100mm macro f/2.8 lens is really somewhat of a Swiss army knife – even though it doesn't zoom, it is still a very versatile lens"