Cameras
New Sensor, Integrated WiFi Define Nikon D5300
A new mid-range DSLR and high-end full-frame lens highlight Nikon's second product launch of the month.
Credit:
Amid this month's slew of high-profile camera announcements, Nikon has announced an update to last year's D5200 DSLR, the D5300. Nikon is sticking with what works here—the new D5300 is a largely iterative upgrade in the spec department. But that doesn't mean the company hasn't made a few notable tweaks.
On the outside, Nikon has completely redesigned the grip, simultaneously increasing its surface area and the clearance between it and the lens. Additionally, the D5300 has a slightly larger 3.2-inch, 1.037m-dot articulating display—up from 3 inches and 921k dots on the D5200.
While those are the only visible changes, there's also new juju under the hood. Most importantly, the D5300 features a new-generation 24.2-megapixel CMOS sensor with a wider native ISO range of 100-12800 (expandable to 25600). Like most recent DSLR sensors, the D5300's also lacks a low-pass filter, which should increase pixel-level sharpness at the potential expense of moire. Powering the imaging chain is a new EXPEED 4 processor, which enables 1080/60p video and real-time effects when shooting in live view.
The D5300 is also the first Nikon DLSR with built-in WiFi, which allows for remote shooting and sharing of photos. Along with WiFi comes a built-in GPS module, which is capable of geotagging shots but doesn't display point of interest info like some of the company's point-and-shoots.
The D5300 is also the first Nikon DLSR with built-in WiFi, which allows for remote shooting and sharing of photos.
You'd think a new processor might have an adverse effect on battery life, but Nikon has also gifted the D5300 a better battery—the EN-EL14a is CIPA-rated for up to 600 shots on a full charge, up from 500 on the D5200 (the older model's EN-EL14 is also compatible). Much like the camera itself, the new battery is lighter than its predecessor—something that should contribute to the D5300's small but appreciable improvement in handling.
For the style-conscious among us, the D5300 will be available in your choice of black, red, and grey finishes at an asking price of $799.95 body-only, or $1,399.95 with a 18-140mm DX kit lens. You can expect to find it on the shelves (real or virtual) of your favorite retailer in late October.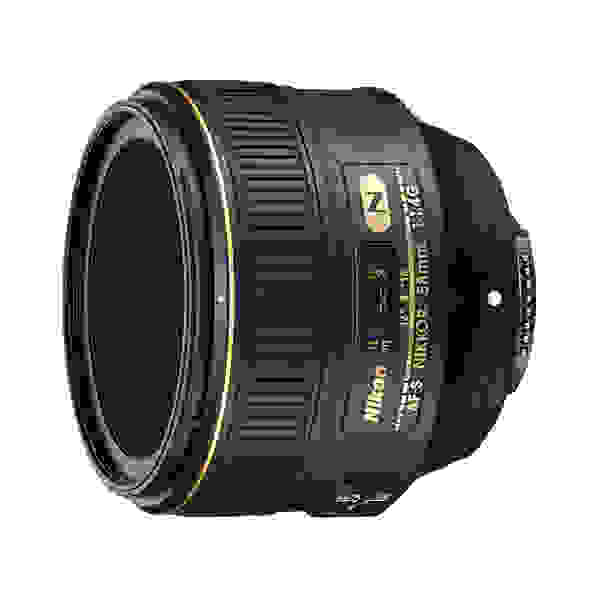 And speaking of lenses, Nikon has also taken the wraps off its brand-new AF-S Nikkor 58mm f/1.4 G lens: an homage to the enthusiast-beloved film-era Noct-Nikkor 58mm f/1.2 lens. At an asking price of $1,699.95, this lens is targeting a very different market than the existing $600 AF-S Nikkor 50mm f/1.4G, which it's intended to complement, not replace.
The new optic sports nine rounded aperture blades, nano-crystal coating, and a 9-element/6-group design with two aspherical elements. Like the legendary Noct-Nikkor, the 58mm f/1.4G has been designed to excel in extreme low-light conditions, with special attention paid to correcting sagittal coma and vignetting. The lens will be sold complete with a pouch and hood for $1,699.95, and will also be available late this month.