Cameras
New Update for for Ricoh GR Digital II
On April 22, Ricoh will release the fourth function-enhancing firmware update for its GR DIGITAL II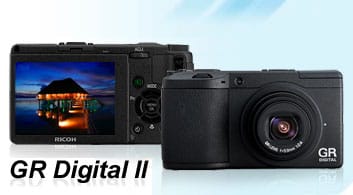 On April 22, Ricoh will release the fourth function-enhancing firmware update for its GR DIGITAL II. The update will bring in the following changes.
Enhanced functions
1) It is now possible to manually set the flash amount.
When the flash mode is set to [Manual Flash], it is now possible to set the flash amount. For the flash amount, you can select from 12 levels ranging from full flash to 1/45.  
• This enables you to fix the flash amount so that it will not be affected by the light reflectance of the subject and background.  
• This results in a relatively short time lag since there is no need to do a pre-flash to get exposure information.  
2) It is now possible to set the flash timing.
The timing at which the flash fires can be selected from the choices '1st Curtain' (immediately after exposure begins) and '2nd Curtain' (immediately before exposure ends).  
• Normally it is convenient to use '1st Curtain,' which fires the flash when the shutter is pushed.  
• Using '2nd Curtain' when shooting a moving subject in flash (slow) synchro can result in images with more natural light trails.  
3) It is now possible to register white balance compensation in My Settings.
You can select whether to save in My Settings the value set for white balance compensation.  
4) The TODAY'S SHOTS display function has been added.
The number of images recorded during the current day can be displayed on the LCD monitor when the power is turned off.
For more details go to http://www.ricoh.com/r_dc/download/firmware/grd2/