*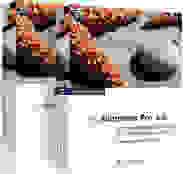 April 19, 2005 *— nik multimedia, Inc. today announced an upgrade to its image sharpening software. nik Sharpener Pro 2.0 operates exclusively or plugs into Adobe Photoshop or other digital editing software to sharpen images for making large prints. The company improved upon its Sharpener Pro 1.0 software by adding 16-bit compatibility, a larger preview area, a RAW presharpening filter, and more tools to control where sharpening is applied.
nik Sharpener Pro 2.0 creates crisper pictures based on the image's resolution, viewing distance, paper type and printer resolution. Photographers must enter this information, as well as the printer manufacturer and printing process, into the software's interface. The program can automatically sharpen images or users can manually select which areas or colors need sharpened.
Users of the earlier nik Sharpener Pro 1.0 software get upgrade pricing from $59.95 to $259.95, depending on what edition they own and which edition they want to upgrade to. New consumers will pay the retail price of $169.95 for the Inkjet Edition and $329.95 for the Complete Edition. Both editions will be available in June.