*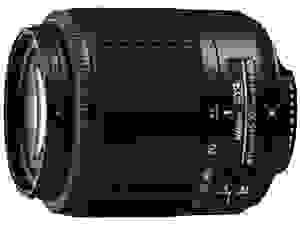 April 20, 2005 *– Coinciding with the release of the Nikon D50 and D70s, the company also released two new Nikkor lenses aimed at the digital entry-level market today. The 18-55 mm and 55-200 mm lenses are both marketed as compact, light, and affordable. These two lenses join a DX line of 50 lenses specifically designed for Nikon digital SLRs. The 18-55 mm lens will retail for $179.95 and the 55-200 mm lens will retail for $249.95; both lenses make their debut on store shelves in June.
"Memorable pictures rely on several factors that certainly begin with an expertly engineered camera equipped with a superior lens," said Edward Fasano, general manager of marketing at Nikon Inc. "Nikkor lenses are famous for their ability to record breathtaking sharpness, balanced with optimal contrast, accurate and consistent color, all to significantly improve overall image quality."
The Nikon AF-S DX Zoom-Nikkor 18-55 mm lens is included as a kit lens with the new Nikon D50. It proves to be a good fit, as the D50's built-in Speedlight flash will cover even the widest angle on the lens. The 3x optical zoom lens will have maximum apertures of f/3.5 in its widest setting and f/5.6 in the telephoto.
Packing longer telephoto capabilities in a smaller form, Nikon introduced the AF-S DX Zoom-Nikkor 55-200 mm lens with apertures of f/4-f/5.6. Both lenses have Nikon Extra-Low Dispersion glass to minimize chromatic aberrations and Silent Wave Motor technology for fast, quiet focusing.