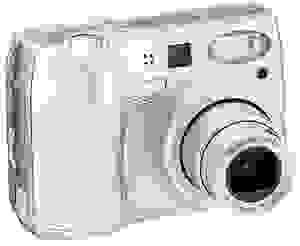 February 16, 2005– Nikon unveiled three new Coolpix point-and-shoot digital cameras today, designed to decrease the presence of the computer from the digital photography process. In-camera features such as Red-Eye Fix, Crop, and Blur Warning are available so users don't have to rely on editing software to capture great shots.
The Nikon Coolpix 7600, 5600 and 4600 have similar physical specifications: 3x optical zoom lenses, 1.8-inch LCDs, 14.5 MB of internal memory and even 16 scene modes. The new Coolpix digital cameras will be available in March 2005.
The Nikon Coolpix 7600 packs 7.1 megapixels on its 1/1.8-inch CCD. With this resolution, the 7600 has six image size options, including an offered 3:2 ratio for 4 x 6-inch prints. The movie mode also has a wide variety of options: three sizes with a 640 x 480 maximum resolution that records with audio at 30 frames per second. With an electronic vibration reduction system on the Coolpix 7600, movie clips can be recorded without the usual shake or visible fluctuation, up to the capacity of the internal memory or optional SD card.
Nikon has several features designed to make taking pictures easier. A Help button on the back of the camera can be pressed to explain a selected menu option or mode. There is also a Voice Memo mode that can record several seconds of audio for each photograph. Perhaps one of the most interesting features of the Nikon Coolpix 7600 is its Face-priority auto focus in the portrait scene mode. The technology is being introduced only on the Coolpix 7600, 5900, and 7900 digital cameras.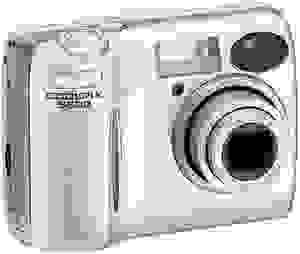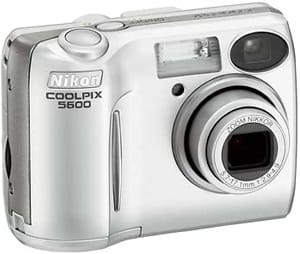 With the new technology, the camera can determine whether the portrait is horizontally or vertically aligned. It then recognizes facial characteristics and focuses on them, even when the zoom level is changed. A company called Identix collaborated with Nikon to produce the Face-priority AF feature.
"With this feature, photographers are able to automatically adjust camera settings faster than any human capability allows, to capture that unique, split second expression on someone's face, resulting in the ability to consistently produce perfect human portraits," said Dr. Joseph J. Atick, president and CEO of Identix.
The 5.1-ounce Nikon Coolpix 7600 will retail for $379.95 when it comes out in March. It will be available in black and silver frames.
The Nikon Coolpix 5600 and 4600 are very similar to the 7600, only with less megapixels and no face recognition technology. Both cameras do have a scene mode that is not included on the 7600: the Underwater scene mode. This is meant to be used with the optional underwater housing that can go in depths to 130 feet.
The 5.1-megapixel 5600 and 4-megapixel 4600 both have five image size options with 4:3 and 3:2 aspect ratio options. Both have 3x optical zoom lenses and the same 3.3 x 2.4 x 1.4-inch dimensions. The Coolpix 5600 and 4600 operate on AA batteries and can take 230 shots with alkaline batteries and 360 shots with rechargeable Ni-MH batteries. The 4.6-ounce cameras also have a QuickTime movie mode with three size options, all shooting 15 frames per second. The only difference between the cameras – besides the resolution – is the audio in the movie mode. The Nikon Coolpix 5600 records audio; the 4600 does not. The 5.1-megapixel 5600 will retail for $279.95 and the 4-megapixel 4600 will sell for $199.95. Both cameras will only be available in a silver finish.