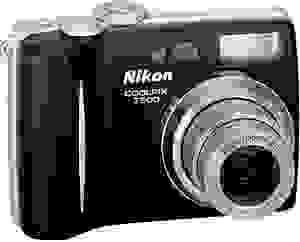 February 16, 2005 – Nikon today announced the Coolpix 5900 and 7900 as its offering to the upgrading digital photographer. The Coolpix 7900 has 7.1 megapixels and the 5900 has 5.1 megapixels. Both cameras are constructed with aluminum bodies, 3x optical zoom lenses, and 2-inch LCD screens. They also have 16 scene modes and a variety of features designed to do more editing within the camera instead of on the computer.
The black-colored Nikon Coolpix 7900 and silver-colored Nikon Coolpix 5900 both share the same usability features: In-camera Red-Eye Fix, Face-priority AF, Blur Warning, and Lighting Compensation. The red-eye fix technology recognizes the red-eye and allows the user to eliminate it within the Playback mode. The Face-priority auto focus technology is new to Nikon. It is being introduced on the Coolpix 7600, 5900, and 7900 digital camera models. The technology finds a face within the portrait mode and automatically focuses on it, so users get clear pictures of faces. The blur warning appears when the hand or camera shakes. A D-Lighting function balances the exposure by compensating for backlit scenes or insufficient flash light. All of these features are designed to streamline what Nikon calls "the digital process."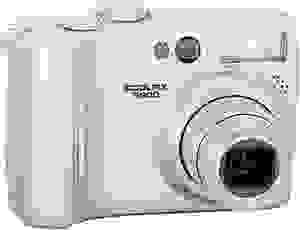 Both digital cameras have 16 scene modes, including an underwater mode that can be used with the optional underwater housing. They also have a Panorama mode that stitches together several photographs in the supplied PictureProject software. A Voice Memo mode records up to 20 seconds of audio for each image file.
The Nikon Coolpix models have measurements of 3.5 x 2.4 x 1.4 inches and weigh 5.3 ounces without the optional SD card or lithium-ion battery. With the battery, the Coolpix 7900 can take 220 shots until it needs to be recharged. The Coolpix 5900 can shoot up to 270 shots. Both cameras include 13.5 MB of internal memory and movie modes that record video with audio at 30 frames a second. The Nikon Coolpix 7900 includes an electronic vibration reduction system, whereas the Nikon 5900 does not. The only other difference between the two cameras is the amount of resolution available.
The 7.1-megapixel Nikon Coolpix 7900 will retail for $449.95 in April. The 5.1-megapixel Nikon Coolpix 5900 will sell for a suggested $349.95 when it debuts in March.