Cameras
Nikon Announces Coolpix S52 and Wireless-Enabled S52c
April 10, 2008 – Nikon today announced two sleek and shiny additions to its "Style" series: the Coolpix S52 and wireless-enabled S52c. Both point-and-shoots feature 9 megapixels, 3x optical zoom NIKKOR lenses, optical image stabilization, and ISO se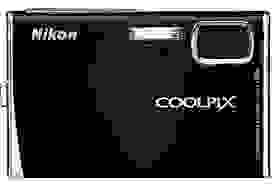 April 10, 2008 – Nikon today announced two sleek and shiny additions to its "Style" series: the Coolpix S52 and wireless-enabled S52c. Both point-and-shoots feature 9 megapixels, 3x optical zoom NIKKOR lenses, optical image stabilization, and ISO sensitivities of up to ISO 3200. The Coolpix S52 will retail for $249.95, and the S52c will retail for $279.95; both will be released in May.
Both cameras follow the S51 and S51c, released last August. The resolution has increased from 8.1 to 9 megapixels on both cameras, which feature EXPEED digital image processors, while the 3x optical zoom lens has remained the same. The S52 and S52c also retain the same large, high-resolution 3-inch LCD screen found on their predecessors.
The two point-and-shoots are nearly identical, except the S52c has wireless capability, so users can transfer images using a WiFi connection. Images can be transferred to computers and other WiFi-equipped devices. The S52c is also compatible with my Picturetown, Nikon's photo-sharing and storage site, which allows users to post to Flickr and other blog and social networking sites.
Both cameras feature what Nikon calls "Optical Vibration Reduction," which is another term for optical image stabilization. This method of blur reduction actually moves a portion of the lens element to compensate for camera shake, and is considered the most effective way to stabilize images.
The S52 and S52c also have ISO sensitivities of up to 3200 for shooting in low-light settings, and the Auto ISO control automatically selects the sensitivity from ISO 100 to 800, and up to ISO 2000 in High-Sensitivity mode.
Both cameras feature Nikon's Face-Priority AF, which can recognize up to five faces within the frame, and Red-Eye Fix, which automatically detects and edits red eyes. D-Lighting also compensates for backlighting or inadequate flash . In Playback mode, the Pictmotion function allows users to create in-camera slide shows with music uploaded from iTunes.
The cameras run on a rechargeable lithium-ion battery. The S52 will be available in Crimson Red and Midnight Black, while the S52c will be available in Vibrant Black.