February 21, 2006 – Sporting new housings that boast a wavy design, the Nikon Coolpix S6 and S5 were announced today. The slim digital cameras have large LCD screens, electronic vibration reduction in the movie modes and a Pictmotion mode that merges slide shows and background music. The S6 has wireless capabilities and 6 megapixels, while the S5 has 5 megapixels and does not support WiFi. Both Coolpix cameras will be available in a wide range of colors this month. The Nikon S6 will sell for $449 and the S5 will retail at $349.
The Nikon Coolpix S6 has a 3x zoom lens that does not extend from the camera body. It also has a large 3-inch LCD screen with a 170 degree wide viewing angle and 230,000 pixels. Perhaps the most distinguishing feature of the Nikon S6 is its ability to wirelessly send images to a compatible printer or computer, though more and more compacts are emerging with wireless capability.
The S5 does not have WiFi capabilities, but does have the same 3x zoom lens and a smaller 2.5-inch LCD screen with 230,000 pixels. The screen has the same wide viewing angle and includes automatic image rotation, which the S6 features as well.
Both cameras have a Pictmotion mode, which strings up to 30 images or movies together and plays them to soundtracks. There are five songs preloaded on each of the digital cameras, and three more can be uploaded with the included PictureProject software (which is compatible with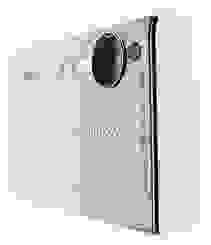 Windows only, however). There is also a calendar function that sorts image and movie files by date to make it easier to search for a particular file.
The Nikon Coolpix S6 and S5 have 15 scene modes and a movie mode that shoots in three image sizes at 30 or 15 frames per second. An electronic vibration system activates in the movie mode to reduce the effects of shaky hands. Both models also have a one-touch portrait button that allows easy access to Nikon's built-in technology that was so heavily marketed last year: Face-Priority Auto Focus, In-camera Red-Eye Fix, and D-Lighting Compensation. However, on the S6 and S5, these features are easier to find, thanks to one button located atop the cameras.
Revamped menus in the S6 and S5 will have a new color scheme and better icon size for easier reading, something featured on all new Nikon compacts this year. Navigation will also be easier with the multi-selector that doubles as a rotary dial. This feature, similar to the one on the Canon PowerShot S80, will enable users to scroll through large numbers of pictures in less time.
The new Nikon Coolpix S6 and S5 have plain bodies that are free from highlights, but they also have a sleek wavy design that is supposedly more comfortable to hold. The S6 measures 3.9 x 2.4 x 0.8 inches and the S5 is a little smaller at 3.7 x 2.3 x 0.8 inches. The cameras are thickest on the side with the 3x zoom lens and thinnest where the fingers grip the right side. The tiny cameras can slip into an optional underwater case, which can take the camera to depths of 3 meters.
Both cameras are just under 5 ounces without the SD card and battery. The cameras come with CoolStation docks that charge the lithium-ion batteries when connected. The S6 gets 200 shots per charge and the S5 gets 210 shots out of its battery.
The Nikon Coolpix S6 has 20 MB of internal memory while the S5 stores 21 MB. Both cameras have 2.2 frame-per-second burst times and start up in less than a second. They have limited flash units that reach to 8.5 ft. in wide and just over 4.5 ft. in telephoto. The Nikon Coolpix S6 and S5 are PictBridge and ImageLink compatible.