Cameras
Nikon Announces D5000, Sub-$1000 Video-Enabled SLR
Nikon has announced the D5000, its second digital SLR with video recording capability, priced at $729.95 for the body alone, or $849.95 with an AFS-NIKKOR 18-55mm f/3.5-5.6G VR lens. The 12.3-megapixel D5000 will shoot high-def video in 720p format, at 24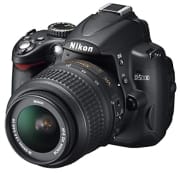 April 14, 2009 - Nikon has announced the D5000, its second digital SLR with video recording capability, priced at $729.95 for the body alone, or $849.95 with an AFS-NIKKOR 18-55mm f/3.5-5.6G VR lens. The 12.3-megapixel D5000 will shoot high-def video in 720p format, at 24 frames per second. It's scheduled to ship in late April.
The D5000 is a very close relative of the company's D90, which sells for $999.95 for the body alone. The two cameras share the same sensor, 11-point autofocus system and movie mode functions, storing 720p video in Motion JPEG format. The D90 offers a slightly faster burst mode (4.5 frames per second versus 4 for the D5000), the D5000 offers a wider selection of scene modes (19 in all) and in-camera editing tools. The cameras offer similar Live View mode, but when we handled a pre-production model of the D5000, the display seemed smoother and less jittery than the D90 we reviewed (available here). The D5000 expands Live View autofocus  to include Subject Tracking AF, along with Face Priority AF, Wide Area AF and Normal Area AF. Both cameras offer ISO range from 200 to 3200 plus extended LO 1 and Hi 1 settings, Active D-Lighting dynamic range expansion,  and Nikon's 3D Color Matrix Metering II and Picture Control systems.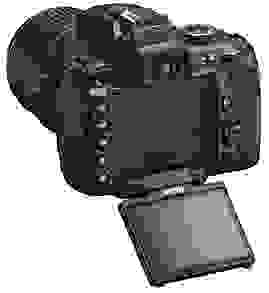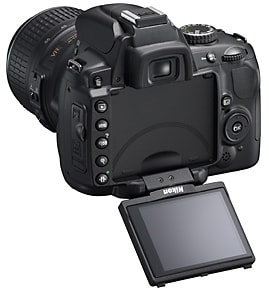 One notable area of distinction is the LCD screen. The D90 uses Nikon's high-res 3-inch 920,000-dot screen.  The D5000 goes in another direction, literally, with a 2.7-inch 230,000-dot screen that's hinged at the bottom. It can flip straight down and be rotated from side to side, allowing off-axis shooting when holding the camera at a low angle or off to the side. It also lets the screen be flipped entirely around and placed screen-side inward against the camera back, protecting it from the elements.
The Nikon D5000 is the second sub-$1000 SLR with video recording mode announced recently, following Canon's introduction of the T1i, a 15.1-megapixel,  model which will shoot both 1080p video at 20 frames per second and 720p at 30 frames per second.  To read our extensive hands-on First Impressions review Canon's T1i, click here.
Nikon also announced a new addition to the DX lens series, the ultra wide-angle AF-S DX-NIKKOR 10-24mm f/3.5-4.5G ED lens, which provides coverage from 109 degrees to 61 degrees. The lens is scheduled to ship in May for $899.95.