Nikon has announced six new cameras this morning including a new flagship for their Coolpix series: the P7100. The company will also add four new models to the Coolpix "S"-series, and release a GPS-enabled compact toughcam called the AW100.
The P7100 is a 10.1 megapixel, 7.1x zoom model, with a compact body and 3-inch tilting LCD monitor. The P7100 features an optical viewfinder and all four typical exposure modes (auto, shutter priority, aperture priority, and manual). Full resolution ISO sensitivity will reach 3200, with reduced resolution extended modes available up to ISO 12800. The CCD sensor also captures video at 720p at 24 frames per second, and supports full resolution continuous shooting at 1.2 frames per second. This model will retail for $499.95.
Of the four new cameras Nikon is adding to the S-series, the Coolpix S8200 and S6200 will pack the highest performance. Featuring 14x and 10x optical zooms respectively, as well as 16.1 and 16.0 megapixel sensors, the two models mark Nikon's foray into the "compact superzoom" category, which is young but already competitive. The S8200 will feature 1080p video capture and five frame per second continuous shooting. Both cameras will be equipped with vibration reduction, and will ship in mid September at $329.95 and $229.95.
Nikon's S1200pj will not boast the same specifications as the previous two models, however this camera is equipped with a 20-lumen light projector for sharing content. The S1200pj also offers inter-connectivity with iPhone, iPad, and iPod touch devices to project images and movies stores stored on them or online. This model will also be available in mid September, and will retail for $429.95.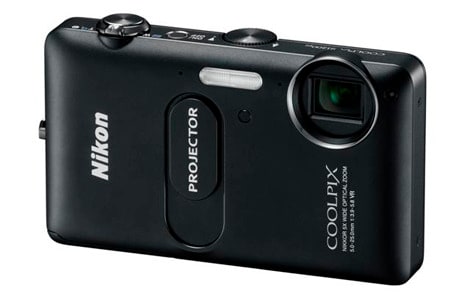 The last addition to the S-series is the Coolpix S100, a stylish pocket camera with an ultramodern form factor. Featuring a 16.0-megapixel CMOS sensor, 5x optical zoom, 1080p video recording, as well as 3-D image recording, the S100 is intended to be a device that turns heads but also performs capably. This camera will sell for $299.95 and will be available in red, black, purple, and gold.
Finally, the last model revealed today was the Coolpix AW100, a rugged, GPS-enabled camera that is waterproof to a depth of 33 feet, shock resistant from a five foot drop, and weather resistant down to 14 degrees Fahrenheit. The AW100 is also one of the thinnest and lightest waterproof cameras at only 0.9 inches thick and 6.3 ounces light. The 16.0-megapixel CMOS sensor is capable of ISO 3200, and the battery has been rated at approximately 250 shots. Estimated retail price for the AW100 will be $379.95.