Cameras
Nikon Cleans Out the Cupboard, Debuts New Lens, Flash, and AA-powered L620 Travel Zoom
Nikon covers the gamut in today's announcements, with some welcome additions to their lineup.
Credit:
Nikon today announced three new products, including a new compact external flash, the 14x zoom Coolpix L620, and a versatile 18-140mm f/3.5-5.6 DX zoom lens. The three products all represent compact, affordable alternatives to products that already exist in Nikon's lineup.
The Nikon Coolpix L620 is the latest in a long line of AA-powered travel-zoom cameras from the company, designed for vacationers who want something with decent reach that also offers the freedom of using standard batteries. The L620 complements the higher-end L820, which debuted in January with a 30x zoom lens and a DSLR-style form factor.
Along with its 14x zoom, the L620 enjoys an 18.1-megapixel CMOS image sensor, a 3-inch LCD, optical image stabilization, a built-in flash, and a maximum sensitivity of ISO 3200. The newest Coolpix also has a host of automatic and scene modes, since it's targeted at novice shooters looking for a simple, powerful compact camera.
Keeping on the zoom bandwagon, Nikon also announced the 18-140mm f/3.5-5.6G AF-S ED VR lens for APS-C DSLRs. The new lens is a slightly more compact alternative to Nikon's well-regarded 18-200mm f/3.5-5.6 AF-S VR II, and comes in with an MSRP $250 lower. The alphabet soup at the end of the model name indicates autofocus compatibility with all current Nikon DSLRs, optical stabilization, and a low-dispersion lens element to improve overall image quality.
Rounding out today's announcements, Nikon has revealed a new compact external flash, the SB-300. The new Speedlight isn't all that powerful, but it tilts up to 120 degrees for enhanced bounce effects, is powered by AA batteries, and is small enough to easily fit in your pocket. The SB-300 is compatible with both current Nikon DSLRs and advanced Coolpix cameras, giving P7700 and Coolpix A shooters something to think about.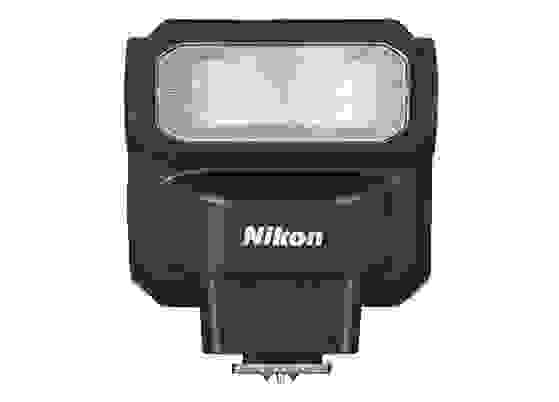 All three products are expected to be available at retail in late August. The L620 will debut at an MSRP of $249.95 and will be available in black or red. The 18-140mm lens will debut at $599.95, while the SB-300 will have a suggested retail price of $149.95.
For more on today's announcements, you can head on over to Nikon's press page.