November 1, 2005 - Nikon UK has today announced the Wireless Remote Speedlight SB-R200 and Wireless Speedlight Commander SU-800, both for macro photography.
The lightweight and compact SB-R200 Speedlight can be inserted into a dedicated ring attached to the lens to closely illuminate the subject. The SB-R200 is also compatible with SB-800, SB-600, and the new SU-800 units, and can be used as part of a larger flash system. It is also controllable by Nikon DSLRs with a Commander mode, i.e. the D70, D70s, and new D200.
The SB-R200 has a guide number of 10/33 at ISO 100, with coverage of 60° vertical and 78° horizontal. The head can tilt down 60° toward the optical axis or up 45°, with click stops every 15° in either direction. The SB-R200 has a 6 second recycling time and runs on one CR123A (3V) lithium battery. A case, stand, color filter set, and filter set holder are included, and a second color filter set and adapter ring are optional.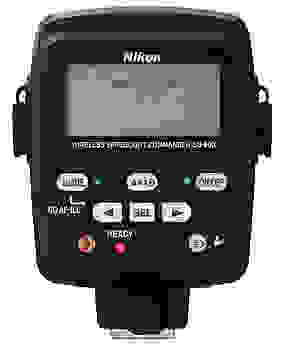 With the Speedlight Commander SU-800, small subjects can be automatically exposed for with its one-touch switch, and manual flash outputs can be controlled through its LCD. The SU-800 has a transmission range of 66 feet for the SB-800 and SB-600, and 13 feet for the new SB-R200. It can control 3 groups over 4 channels. The transmission interval is 1 second, and running on a CR123A (3V) lithium battery, the SU-800 has roughly 1200 transmissions per battery. The flash coverage is 60°.
The new SB-R200 and SU-800 are both available as part of the Nikon Close-up Speedlight Commander Kit R1C1 (Macro Set A), while only the SB-R200 is included in the Nikon Close-up Speedlight Remote Kit R1 (Macro Set B). Both kits include many other accessories, such as adapter rings, color filters, cases, and a stand, diffuser, and flexible arm.
The SB-R200 will sell for $155 alone; Macro Kit A will sell for $680 and Macro Kit B, $430. The price for the SU-800 alone is $265. Both products and kits will be available at the end of December.