Cameras
Nikon Overhauls 1 System Design With the New 1 V2
Nikon has just announced the Nikon 1 V2, with some major design changes over last year's 1 V1. Read on for our full breakdown of the latest from Nikon.
Nikon today announced their newest 1-system camera, the Nikon 1 V2, as well as a new 1-system flash and a full-frame Nikkor lens for their line of DSLRs. The V2 is a rather radical update to the look and feel of the V1, which was first announced at the end of 2011.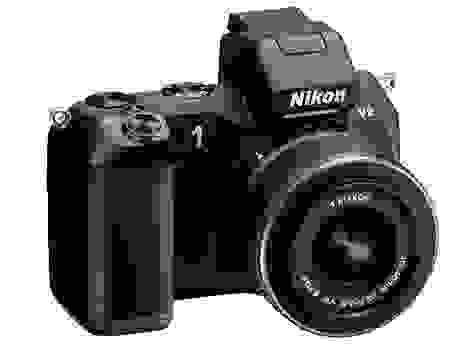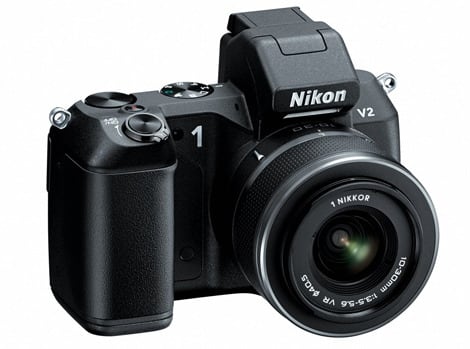 The V2 features a brand-new 14.2-megapixel CMOS image sensor, paired with a new EXPEED 3A image processor, resulting in up to 15 frames per second burst shooting with continuous autofocus. The V2 retains the built-in electronic viewfinder of the original, with its 1.4-million dot LCD panel located in a more substantial housing on the top plate of the camera.
Two of our major complaints about the V1 have been addressed by the new design, as the camera features a substantial rubberized grip and a mode dial with full PASM shooting mode control. The changes result in a totally different body style, but better serve the interests of the advanced photographers Nikon claims the V-series is targeting.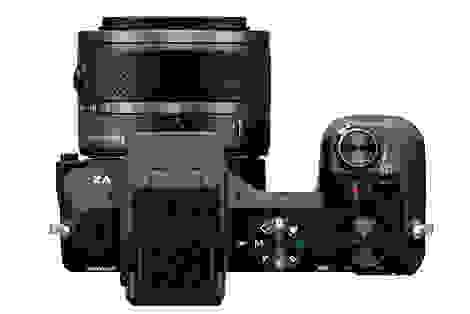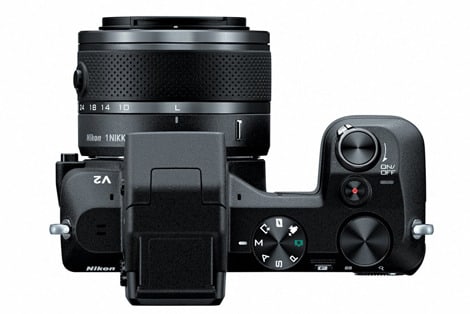 Speed has been the trump card for Nikon's 1 system to date, and the V2 makes no moves to alter the status quo. The camera features 400fps and 1200fps reduced-resolution video recording, with 40fps and 60fps maximum burst shooting for still photography with focus fixed on the first shot. The updated processor should also improve autofocus speeds when utilizing the camera's 73-zone hybrid contrast/phase detection autofocus system.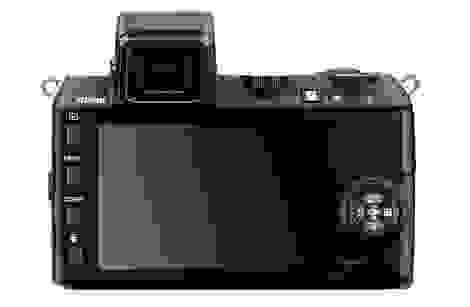 Nikon also announced today a new 1 system accessory, the SB-N7 speedlight. The new flash gun features a 120-degree vertical bounce, AAA battery power, and a guide number of 18 meters at ISO 100.
The new flash is a nice addition, slotting into a new hot shoe positioned atop the EVF housing rather than to the side, where it was placed on the V1. The new location is more traditional, though the V2 can look a little awkward with a larger flashgun perched on top of it.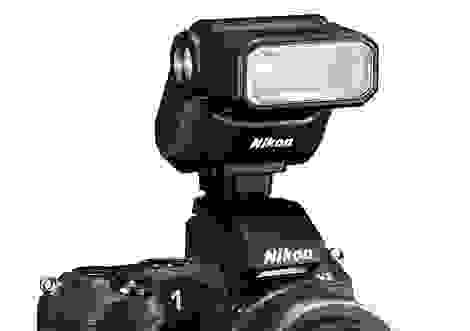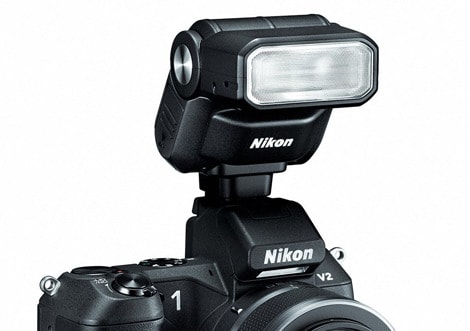 Nikon wasn't thinking just about their compact system cameras today, though, as they also announced a brand-new AF-S 70-200 f/4G ED VR lens for their lineup of DSLRs. The 70-200 f/4G fills a bit of a gap in their current lineup, offering a cheaper, lighter alternative to the much-loved AF-S 70-200mm f/2.8G IF-ED VR. This new lens ships with Nikon's third generation Vibration Reduction system, which Nikon claims can add up to 5 stops of stabilization to aid in low-light shooting.
Nikon plans to start shipping the Nikon 1 V2 and 10-30mm kit lens in late November for a suggested price of $899.95, with black and white options available at launch. The SB-N7 speedlight is expected to hit stores in January of next year for a retail price of $159.95.
The AF-S NIKKOR 70-200mm f/4G ED VR should also be available in November, starting at $1,399.95. The lens unfortunately does not ship with a tripod collar, with Nikon providing an optional one in the "near future" for a suggested price of $223.95.
For more on today's announcements, you can head over to Nikon's press page.
{:{PhotoGallery article.attachments}:}