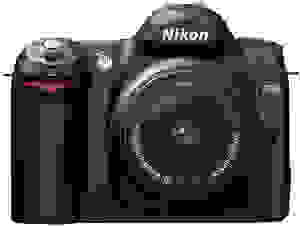 April 20, 2005 – Nikon introduced the highly anticipated Nikon D50, an entry-level digital SLR that caters to a wide audience of photography enthusiasts and beginners. The new 6.1-megapixel D50 has many similar functions to the older D70, but adds a few trendy features such as a larger LCD screen and the use of a Secure Digital card rather than the traditional SLR card format of CompactFlash. The Nikon D50 will retail for $899.95 and will include an AF-S Zoom-Nikkor 18-55 mm lens when it becomes available in June.
"The D50 inherits the high image quality, responsiveness and speed consumers have come to expect of Nikon's digital SLR cameras, while also embodying a simple, intuitive and compact design, so anyone in the family can use it without hesitation," said Steve Heiner, general manager for Digital SLR Camera Systems at Nikon Inc. Heiner expects the smaller price tag of the D50 to attract consumers who previously could not afford a DSLR.
The Nikon D50 will combine the 0.2-second startup time and 2.5 frame-per-second burst mode of a DSLR with consumer-friendly features, such as a larger 2-inch LCD screen, lighter SD card, more compact body, and a Child scene mode. The new model eliminates the D70's Night Landscape scene mode and replaces it with a Child scene mode. There are several small changes such as these from the earlier D70.
The D50 is more compact than the D70 at 5.3 x 4.1 x 3 inches and weighs 1.2lbs (without batteries and memory card). Externally, there are minor changes such as the omission of the bracketing button and the addition of a larger and more comfortable eyecup. The Nikon D50 will also be offered in two colors: black and silver. Internally, the Nikon D50 is a simplified, easy to use variation of the D70 with help menus and even a PictBridge menu for easier printing. There is also a new Small Picture function that saves photographs in 640 x 480, 320 x 240, and 160 x 120-pixel formats for simple emailing and web posting.
Other key distinctions between the D50 and D70 worth mentioning: Nikon made improvements to the auto focus mode for faster response. The D50 saves uncompressed NEFs, while the D70 saves compressed NEF data. The D50's shutter speed has a shorter range of 30-1/4000th of a second; the D70 extended to a quick 1/8000th of a second.
The new Nikon D50 is expected to compete with such entry-level models as the Canon Rebel XT and the Pentax *istDS in the sub-$1,000 (USD) DSLR market.