*February 2, 2009 – *Nikon announced a diverse lineup of new Coolpix cameras today, including a follow-up to the successful touch-screen S60,  a P-series camera with 24x optical zoom, the pocket-size S630 with 7x optical zoom and an L-series camera priced at just $109.95. All the new models  include a Smart Portrait System (smile and blink detection), 12-face detection and Scene Auto Selector that leaves scene mode choice to the camera.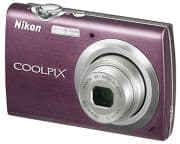 Coolpix S230: Featuring a 3-inch touch-screen LCD, the 10-megapixel S230 (shown) responds to the touch of a finger for accessing features, entering settings and browsing photos, and also comes with a stylus for drawing, painting and stamping on your photos.  Maximum ISO has been boosted slightly from the previous touch-screen S60, to ISO 2000, maximum optical zoom remains at 3x. The S230 will be available in February, in five colors, priced at $229.95.
Coolpix S220: A 10-megapixel S-series camera with 3x optical zoom and a 2.5-inch LCD, the S220 will arrive in February, in six colors, priced at $149.95.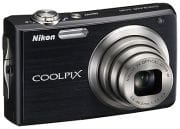 Coolpix S630: Offering an extended zoom in a still pocket-sized body, the S630 (shown) provides 12-megapixel resolution, 2.7-inch LCD and a 7x optical zoom, with up to 11 frame per second burst-mode shooting at a reduced 3-megapixel resolution. There will be five colors and a $279.95 pricetag when the camera ships in February.
**Coolpix S620: **A 12.2-megapixel model with 4x zoom and a 2.7-inch LCD, The S620 offers a surprising ISO 6400 at full resolution, an unsurprising 5-color array and a $269.95 price for February delivery.
Coolpix P90: Nikon kicks up the ultra-zoom specs, from the current 18x, 10.1-megapixel Coolpix P80 to the upcoming 12.1-megapixel P90, with its 26-624mm-equivalent range (i.e., 24x). The P90 (shown) is also noteworthy for its 3-inch LCD that can tilt as much as 90 degrees to provide enhanced shooting freedom (an electronic viewfinder is also provided).  The P90 is scheduled to ship in March for $399.95.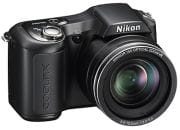 Coolpix L100: At the high end of Nikon's price-conscious L-series, the L100 (shown) offers 15x optical zoom (28-420mm equivalent), optical image stabilization and a 3-inch LCD for $279.95, with an April release date.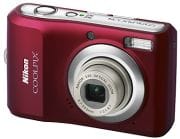 Coolpix L20 and L19: The 10-megapixel L20 (shown) offers a 3-inch LCD, a deep red color and a $129.95 price, while the silver L19 drops the resolution to 8 megapixels and the price to $109.95, both slated for February delivery.