Cameras
Nikon Offers Rebates for DSLR and Coolpix Bundle
Find a link to a Nikon rebate offer on DSLR and Coolpix camera bundles.
*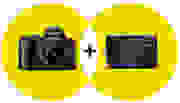 May 25, 2007 *– Nikon is currently offering a "Buy Both and Save' rebate for customers who purchase one DSLR and one Coolpix camera. When bundled together, customers can receive up to $50 back on select Coolpix point-and-shoot models. 
The mail-in rebate offer is valid from May 1 to June 30. Qualifying Nikon customers will receive $50 cash back on Coolpix P-series and S-series purchases or $25 back on L-series cameras.
Nikon DSLRs that qualify for the rebate
D2Xs Body
D2Hs Body
D200 Body or Kit
D80 Body or Kit
D50 Body or Kit
D40x Body or Kit
D40 Body or Kit
Nikon Coolpix cameras that qualify for rebate
P1, P2, P3, P4, P5000 - $50 rebate
S1, S2, S3, S4, S5, S6, S7c, S9, S10, S50c, S200, S500 - $50 rebate
L1, L2, L3, L4, L6, L10, L11, L12 - $25 rebate
The 'Buy Both and Save' rebate form is available at www.nikonusa.com/fileuploads/pdfs/bbandsave.pdf.