Cameras
Nikon Returns to the High-End APS-C Market with the D7100
But is a flagship APS-C camera still a compelling option?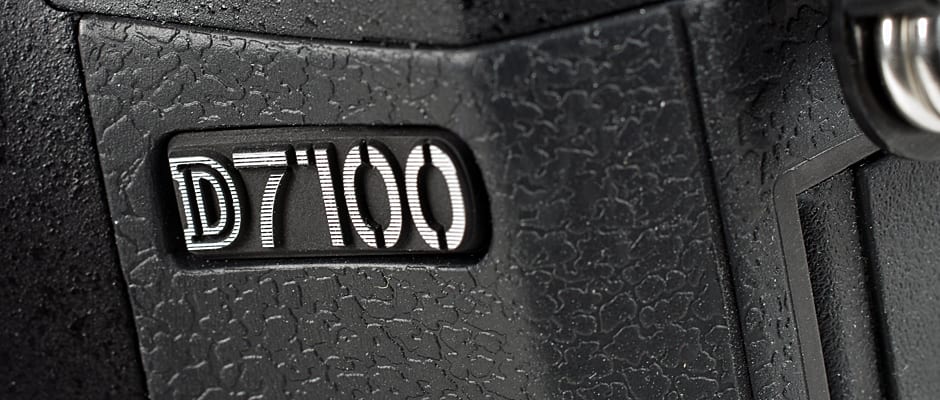 Credit:
Nikon has just announced its newest enthusiast-oriented APS-C DSLR, the D7100. Replacing the aging Nikon D7000, the new camera introduces a host of design and performance upgrades that clearly position it as the company's new DX flagship. The D7100 will sell for a body-only price of $1,199.95, or $1,599.95 when kitted with the 18-105mm f/3.5-5.6 VR lens.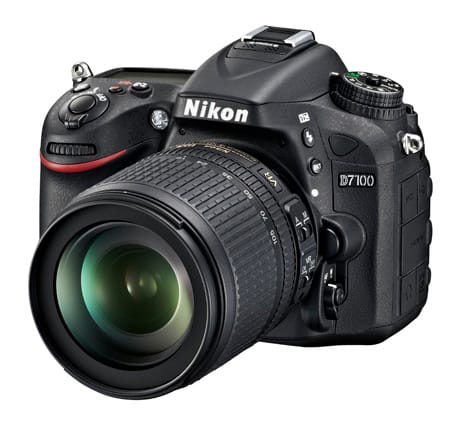 In a market flooded with iterative updates, the D7100 actually looks like a huge leap forward from the D7000. The list of upgrades is long: a new 24.1-megapixel CMOS sensor (without a low-pass filter), the newest EXPEED 3 image processor, a larger 3.2-inch LCD, a magnesium alloy body with D300s-level weatherproofing, and a new 51-point (15 cross-type) autofocus system. The ISO range, however, is identical to the D7000's—100-6400 native, expandable to 25600.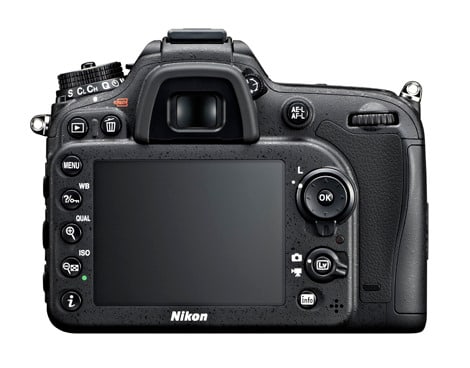 The higher-resolution sensor provides a number of benefits, but by far the coolest is the camera's 1.3x crop mode. Effectively a 2x crop versus a full-frame sensor, the 15.4-megapixel 1.3x mode provides the user with a big bump in telephoto reach. Its outline also hugs the perimeter of the 51-point autofocus layout, giving the D7100 edge-to-edge tracking AF. Finally, the crop mode bumps shot-to-shot speeds from 6 frames per second to 7, with a 1/8000th of a second maximum shutter speed. Sounds like a sports photographer's best friend (pending buffer specs).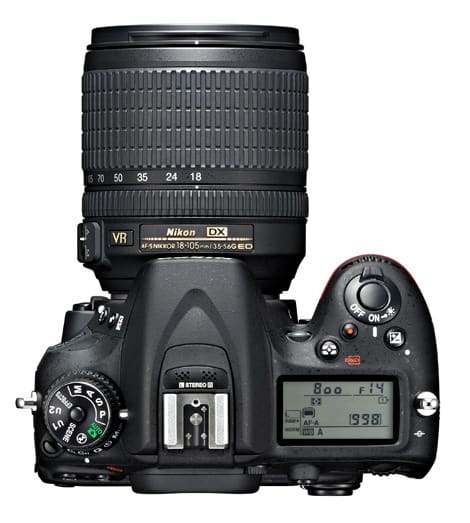 The D7100's physical design hews closest to that of the D7000, though there are a couple new additions: a repositioned live view switch and a new "i" button beside the rear LCD. This new button brings up an info overlay in live view that allows you to adjust critical settings on the fly. In addition, Nikon has mercifully included a spot white balance feature in live view, which should make getting quick, accurate, location-specific white balance readings a lot simpler.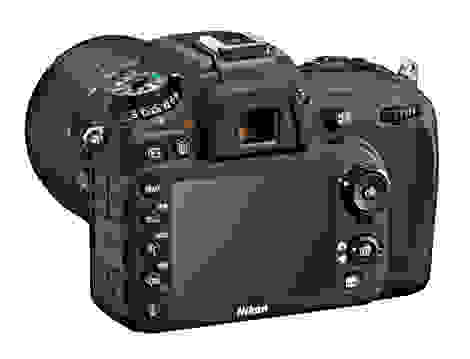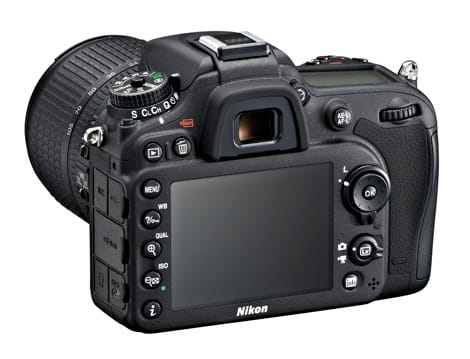 While the additional live view features should please anybody used to mirrorless or entry-level system cameras, the D7100 also has plenty of enthusiast-oriented features. The camera will have dual SD card slots, which will come in handy with 12- and 14-bit RAW capability. The backlit secondary LCD is a must-have for enthusiasts, as are the dual control dials. Also included is a built-in flash, which can function as a wireless commander in creative lighting setups.
Perhaps most important is the built-in focus motor, which allows full AF compatibility with nearly all Nikkor autofocus lenses—something notably absent from Nikon's lower-level APS-C offerings in the last few years. It appears that manual-focus Nikkors conforming to the Ai and Ai-s mount specifications will also be supported, though we were unable to get official confirmation at press time.
For video shooters, the D7100 is proof of just how far DSLRs have come. The camera is capable of 1080/30p video recording, but in its 1.3x crop mode that can be raised to 1080/60i if desired. Full-time autofocus is available while recording video, and uncompressed HDMI output, simultaneous live view, and 3.5mm headphone and microphone jacks are other premium perks. A built-in stereo mic with audio level control is also on-hand, in case you want to travel light.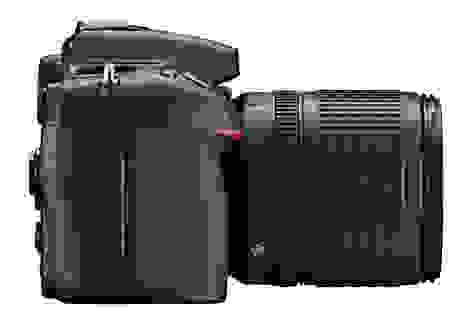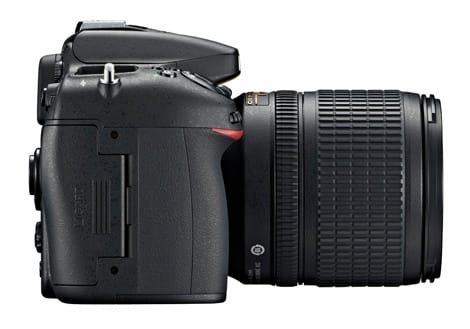 The rear monitor is unfortunately not an articulating panel, though it's been upgraded to a resolution of 1.2 million dots. The improved spec is likely due to the switch to an RGBW matrix. The dedicated white sub-pixels should provide greater contrast and much brighter output to combat glare. For those who prefer a traditional optical finder, the D7100's specs match those of the D7000—100% coverage and 0.94x magnification. However, the information readout along the bottom edge is now an OLED display for better visibility and battery life.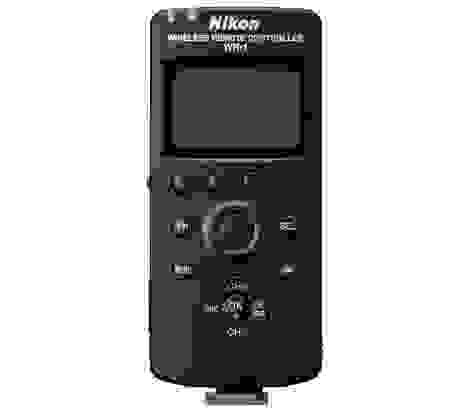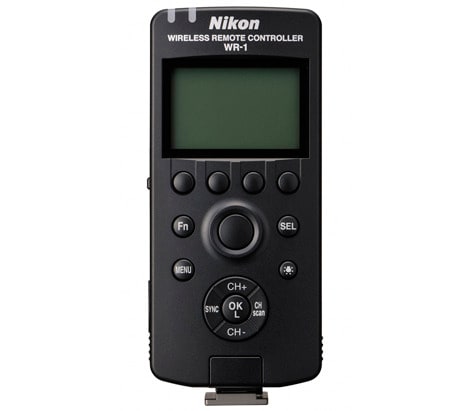 Nikon is also launching a new hot shoe-mounted WR-1 transceiver today. The WR-1 will provide greater flexibility for wireless setups, working on the 2.4 GHz band for a maximum range of 394 feet. The transceiver provides the ability to control multiple cameras wirelessly for simultaneous or controlled delay shooting. You can even divide up several cameras (using either WR-1 transceivers or WR-R10/WRT10 remotes) into different groups, with different commands for each.
The Nikon D7100 is expected to hit retail stores beginning in March, as is the WR-1 transceiver (pricing TBA). For more on these announcements, you can head over to Nikon USA for the official word.