Cameras
Nikon Ups Its Mirrorless Game With New and Improved J5
Nikon's newest 1-series camera offers killer features.
Credit:
In an announcement this morning Nikon took the wraps off its latest 1-series camera, the J5. The successor to the Nikon 1 J4, this little camera offers a sizable increase in features, but preserves its entry-level status with an affordable price point.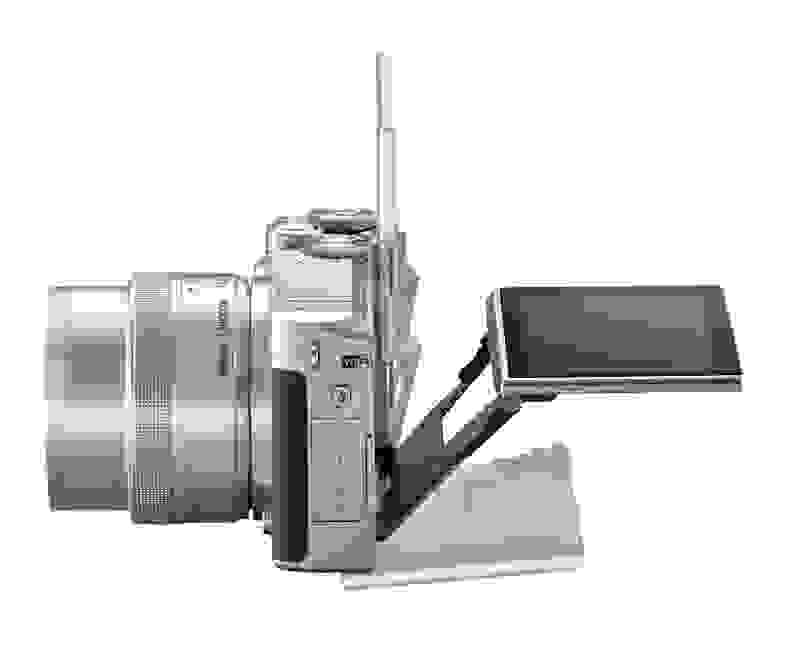 The newest 1-series camera comes in a somewhat retro-themed exterior, complete with black wrap and silver accents. Under the hood, the quirky J5 sports an improved 20.8 megapixel 1-inch sensor (2.7x crop factor)—along with a 105-point phase-detection autofocus system. All of this is handled by Nikon's Expeed 5A processor, which not only enables the camera to use continuous autofocus while shooting 20 frames per second, but it also grants the camera the ability to shoot 4K videos at 15 frames per second.
Though 15fps is not great, Nikon has claimed that the playback of these files will interpolate frames to produce a smoother effect. You can also record in 1080/60p and record full-rez still images while recording video. There's also a built-in 10-second timelapse mode, which will record still images at a fixed interval and put it together into a 1080/30p movie all within the camera.
And of course, the J5 also is getting in on the selfie crazy. Like many recent cameras, the J5 uses a tilting LCD that can be flipped forward to face your subject; perfect for when your subject is, well, yourself.
The J5 comes equipped with NFC and WiFi for easy pairing with your mobile device.
For the social shutterbug, the J5 comes equipped with NFC and WiFi for easy pairing with your mobile device. You can use Nikon's Wireless Mobile Utility on your iPhone or Android device to port snaps over to your phone—pushing them to services like Facebook and Twitter right after.
But perhaps the best thing about this camera is the price. Despite the widespread improvements, the Nikon 1 J5 will debut with a 10-30mm kit lens for just $499.95. That's a full $100 less than the J4 started at, and that savings gives buyers more incentive to explore the slowly-growing 1-series lens library Nikon's amassed in recent years.
If you're willing to reach a little further, there will be two additional kits available at launch. A dual-lens kit with a J5, 30-110mm f/3.8-5.6, and the aforementioned 10-30mm kit lens will retail for $749.95. Rounding out the list is the most expensive kit, with a 10-100mm f/4-5.6 lens that serves as an all-in-one option for those who don't like to swap glass often.
Though availability hasn't been set for any kit option, Nikon has said that all three kits will be available "soon" so we expect to see them by the end of April.