Cameras
Nikon's Coolpix A Puts DSLR Chops in a Point-and-Shoot Body
Nikon becomes the first of the big two manufacturers to launch a fixed-lens APS-C compact.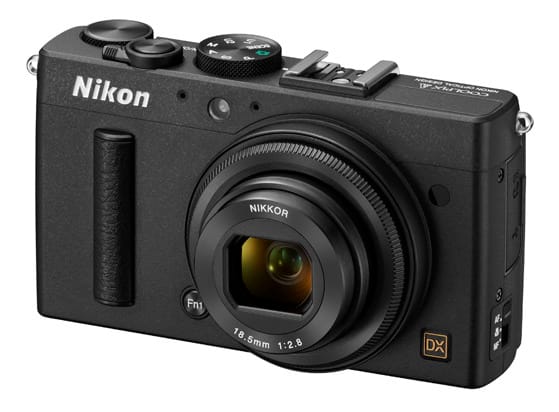 Credit:
Announced Monday evening, the new Nikon Coolpix A (MSRP $1,099.95) is the company's first compact camera with a DSLR-sized sensor. The larger imaging chip gives the A a huge advantage over traditional compacts when it comes to low-light shooting and bokeh, and should generate cleaner, crisper results in just about any situation. But then it ought to, given the price premium.
The Coolpix A isn't a total surprise—manufacturers have been abandoning the entry-level point-and-shoot market and moving toward more advanced compacts for at least the past year—but it's still a bold step into a product category currently dominated by smaller players. Primary rival Canon tried and failed to capture this market in 2012 with its G1 X, a bulky, clumsy body with a slightly smaller sensor.
The A will compete directly with other APS-C compacts like the Fujifilm X100S and Sigma DP2 Merrill, as well as the ultra-expensive Leica X2 and full-frame Sony RX1. Against these contenders, its primary distinguishing characteristic seems to be its compact dimensions; the Coolpix A checks in at just 111mm (w) x 64.3mm (h) x 40.3mm (d), more than 10mm smaller in each dimension than the X100S and even tidier than Nikon's own small-sensor P7700.
So what does your $1,100 get you? The most eye-catching spec is undoubtedly the brand-new 16.2-megapixel APS-C sensor, which arrives sans-AA filter, just like the one in the new D7100 DSLR. The sensor boasts a native ISO range of 100-6400, which can be expanded to ISO 25600 when necessary.
Getting light to the sensor is a new 18.5mm f/2.8 lens, producing a 28mm-equivalent field of view. Users of traditional point-and-shoots might find the fixed focal length limiting, but enthusiasts are likely to welcome a compact equipped with a high-quality wide-angle prime. The lens is surrounded by a ring that can be used to control focus. Nikon hasn't specified whether the lens ring is mechanical or focus-by-wire, but its design suggests the latter. If our guess here is correct, we wouldn't be surprised if it can be customized to control aperture and other settings.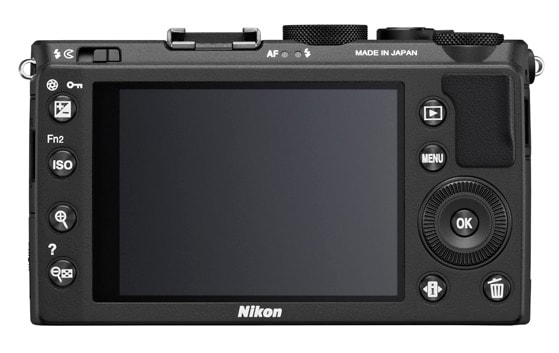 In addition to the lens ring, there are two customizable function buttons and a primary control dial on the top plate. Also present are a hot shoe, pop-up flash, and physical mode dial with full PASM settings plus stops for two custom user modes. The rear LCD is 3 inches on the diagonal, and doesn't bother with any flourishes like an articulating design or touchscreen interface. Nikon says the A's menu design is closer to its DSLRs than other Coolpix cameras, making it a natural fit as a backup camera for pros and enthusiasts.
Several accessories are launching alongside the Coolpix A, each with an eye-popping price. In our opinion, asking $449.96 for a hotshoe-mounted optical viewfinder is just gouging the buyer, and not including a lens hood with a $1,100 camera is also a bit suspect. Coolpix A owners can optionally purchase a packaged adapter ring and lens hood for $129.96. The Coolpix A can also be paired with the $59.95 WU-1a wireless adapter so that you can link the camera with your smart device or home PC and upload images to the cloud.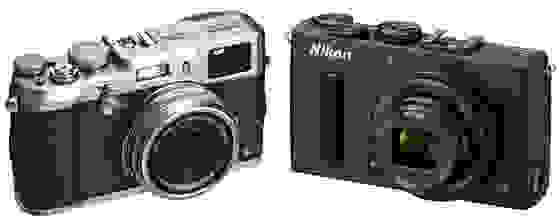 The Coolpix A differs in some key ways from its most direct competitor, the Fuji X100S. Its field of view is substantially wider (28mm vs. 35mm effective), but its maximum aperture is also a stop slower (f/2.8 vs. f/2). Its body is quite a bit more compact, but it also lacks some of the more photographer-friendly manual controls. And of course the Coolpix A lacks Fuji's unique hybrid viewfinder, offering only the rear LCD unless you pony up for the add-on optical finder.
On the plus side, while reviewers have often trumpeted cameras like the X100S for their unassuming, unintimidating street-shooting presence, the Coolpix A should be even more invisible. It really just looks like a point-and-shoot—virtually a twin to the $379.95 Coolpix P330, also announced today.
Both the Coolpix A and its accessories will be available in March, and the camera itself will be offered in black and titanium silver finishes. For more information on this and other recent Nikon product releases, check out Nikon USA's press room.