*April 28, 2005 -*Germany's Carl Zeiss and Finnish-based Nokia have announced a new collaboration with the launch of the 2.0 megapixel Nokia N90 camera phone.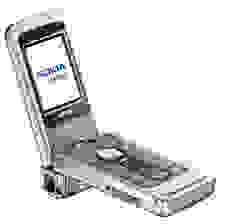 'We are delighted to join forces with the world leader in mobility, and recognize this collaboration as an important step in creating a high-end camera phone market,' comments Dr. Dieter Kurz, CEO at Carl Zeiss. According to Nokia, the N90, outfitted with quality Carl Zeiss optics offers a "2 megapixel camera with autofocus and 20x digital zoom, integrated flash, macro mode for sharp close-ups, and high quality video capture with on-phone editing capabilities." 'The close collaboration with Carl Zeiss, one of the most respected companies in the camera industry, underlines Nokia's dedication to excel in mobile imaging products,' said Juha Putkiranta, Senior Vice President, Multimedia Imaging, Nokia. Putkiranta continued by saying, 'we are proud to be the first camera phone manufacturer in the world to introduce ZEISS-quality products to consumers." The N90 has two displays, one on the outer cover of the phone (128x128) and another on the inside (352x416 pixels.) In video capture mode the N90 has 8x digital zoom, with files saved in MP4 format. Additionally, the N90 can print using the PictBridge format, as well as wirelessly through Bluetooth technology.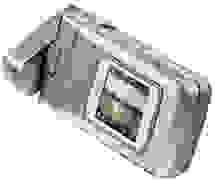 The N90 comes with 31 MB of internal memory or can use the 64 MB in-box RS-MMC card. As the market continues to expand, Nokia is hoping to catch lightning in a bottle with the introduction of N90, along with its music-centric sister phone, the N91. The N91 is designed to compete with Apple's iPod line, but can also capture 2 megapixel photographs.
The Nokia N90 will release during the second quarter of 2005, with the N91 to follow in the months after.