Cameras
Norcent Introduces 12 MP Xias Digital Camera
Jan. 8, 2008 - Small camera manufacturer Norcent has brought some goodies to CES, including a 12-megapixel point-and-shoot. The Xias DCS-1260 captures high-resolution images of up to 4000 x 3000 and features face detection, anti-shake technology, and a 3-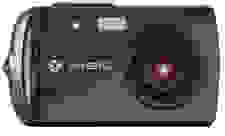 Jan. 9, 2008 - Norcent has brought some goodies to CES, including a 12-megapixel point-and-shoot. The Xias DCS-1260 captures high-resolution images of up to 4000 x 3000 and features face detection, anti-shake technology, and a 3-inch LCD. The DCS-1260 will retail for $249.99 when it ships this spring.
The sleek and shiny DCS-1260 features an 3x optical zoom lens that telescopes out from the body of the camera. And at 3.5 x 2.3 x 0.9-inches and 4.8 ounces, it's easily pocketable. The large, 3-inch screen takes up most of the camera's back, leaving a small amount of space on the right side for an interesting square grid of buttons for the multi-selector and menu functions.
Face detection automatically focuses and exposes detected faces in the frame, and features anti-shake technology to compensate for hand shake. Made for beginners, the camera features 21 Scene modes, including basics such as Landscape and Portrait, along with more unusual Soft Skin and Soft Flowing Water modes. Also included is a Program mode, allowing for some manual control. The Movie mode captures video at 640 x 480, 320 x 240, and 160 x 120, but only allows for audio for up to 30 seconds at a time.
The camera runs on a rechargeable lithium-ion battery.
Norcent also announced that its recently-introduced DCS-860 now comes in four new colors: white, blue, pink, and metallic graphite. The 8-megapixel DCS-860 features a 3x optical zoom, face tracking and anti-shake technology, and a 2.5-inch LCD. It's currently available for $179.99; the other color options will be available later this year.