Cameras
Norcent Launches Sleek, Shiny Point-and-Shoot
Feb. 7, 2008 - Norcent announced an addition to its lineup of Xias point-and-shoots at PMA last week: the 12-megapixel DCS-1260. Following last year's 7-megapixel DCS-760, 8-megapixel DCS-860, and 10-megapixel DCS-1060, the DCS-1260 offers face tracking a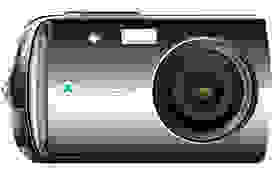 Feb. 7, 2008 - Norcent announced an addition to its lineup of Xias point-and-shoots at PMA last week: the 12-megapixel DCS-1260. Following last year's 7-megapixel DCS-760, 8-megapixel DCS-860, and 10-megapixel DCS-1060, the DCS-1260 offers face tracking and anti-shake technology, and will retail for $249.99 when it is released later this spring.
The DCS-1260 has a 3-inch LCD, captures 12 megapixel images, and has a 3x optical zoom. It features face tracking for automatic exposure and focus on detected faces. Anti-shake helps reduce blur in images, although Norcent did not specify if the technology is digital, mechanical, or optical. Optical image stabilization tends to perform best, moving a lens element or image sensor to compensate for camera shake. 
The 1260 captures MPEG-4 video with sound at 640 x 480, 320 x 240, and 160 x 120 resolution. It has 21 Scene modes, 32 MB of internal memory, and runs on a rechargeable lithium-ion battery.
In addition, Norcent announced its 8-megapixel DCS-860, released last year, will come in Pearl White, Indigo Blue, and Petal Pink, along with its original Metallic Graphite color. The new color options will be available later this spring.