November 15, 2004 — California-based Norcent Technology introduced the 4.2-megapixel Norcent DC-420 Saturday. This camera is marketed for convenience at just over an inch thick and 4.4 ounces. The 3.8 x 2.3 x 1.1-inch digital camera retails for $299.99 and will be available in the United States this month.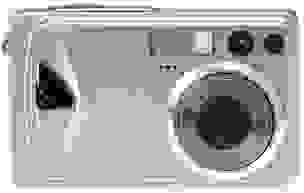 The Norcent DC-420 has the basics of a 4.2-megapixel camera: 2-inch color LCD, 3x optical and 3.6x digital zoom lens, flash and white balance options, voice memo, self-timer, and movie mode. The movie mode shoots 15 frames per second at 320 x 240 resolution without audio. The 1/2.5-inch CCD records images at 2272 x 1704, 1600 x 1200, 1280 x 960 and 640 x 480 resolution. The Norcent DC-420 lacks the scene modes that most digital cameras offer; it has auto, portrait and landscape exposure modes.
According to the Consumer Electronics Association, 76 percent of Americans plan to buy at least one consumer electronics device this holiday season. The top "planned gift" of the season is a digital camera, with 29 percent of consumers eyeing it as a potential gift.