February 2, 2010 – Olympus today announced the SP-800UZ and SP-600UZ, its first ultrazoom cameras equipped with 720p HD video, along with the first high-end Stylus Tough cameras with this feature, the Tough-8010 and Tough-6020.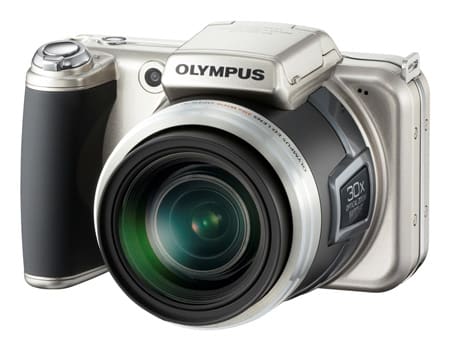 The Olympus SP-800UZ (shown) and SP-600UZ are nearly identical.
The SP-800UZ and SP-600UZ are compact ultrazooms (each weighs less than a pound before adding AA batteries) with 30x and 15x lenses respectively. The SP-800UZ records 14-megapixel images with an f/2.8-5.6 lens that's equivalent to a 28-840mm in 35mm photography. The SP-600UZ lens offers the same 28mm coverage at its widest setting but the telephoto tops out at 420mm, and the lens isn't as fast (f/3.5-5.4). Both cameras offer video recording at 720p, in MP4 format, with HDMI out ports for direct connection to a high-def TV.
The LCD screens have 230,000-dot resolution, though the SP-800UZ display measures 3 inches across, the SP-600UZ 2.7 inches. The Olympus fondness for elaborate shooting effects continues here with four Magic Filters: Pop  Art (intensified saturation), Pin Hole, Fish-Eye and Drawing (creates a sketch outline). In-camera panorama stitching is available for up to three images, or a 10-shot panorama can be assembled using provided computer software.
The SP-800UZ, at 4.2 x 2.9 x 3.3 inches (107.3 x 73.4 x 84.7 mm) and 14.7oz (416g) without batteries, is slightly narrower, taller and deeper than the SP-600UZ, at 4.3 x 2.8 x 3.0 inches (109.9 x 72.2 x 75.1 mm) and 15.3 oz. (433g). Both cameras are scheduled to ship in March, with the SP-800UZ priced at $349.99, the SP600UZ at $249.99.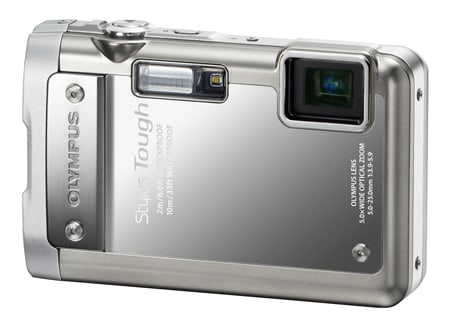 The Olympus Stylus Tough-8010
The Stylus Tough camera line-up also gains two new models, boosting resolution to 14 megapixels and zoom lens to 5x (versus 3.6x for the company's current Tough models). The Stylus Tough-8010, priced at $399.99,  maintains the same rugged specs as the Tough-8000: waterproof to 33 feet (10 meters), freeze-proof to 14 degrees F (-10 degrees C), drop-proof to 6.6 feet (2m), crush-proof to 220 pounds (100kg). The Tough-6020, with a price tag of $299.99, throttles the indestructibility promise down to 16-foot (5m) water resistance, and 5-foot (1.5m) drop-proofing, with the same low-temperature capabilities.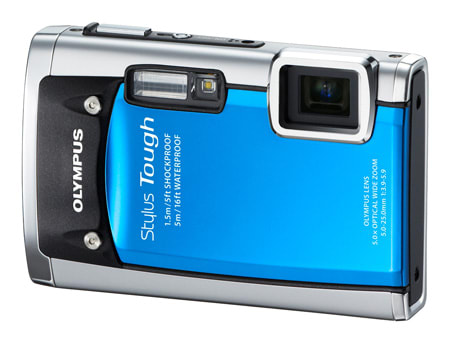 The Olympus Stylus Tough-6020
Both cameras use the same zoom lens (28-140mm equivalent, f/3.9-5.9) and 2.7-inch 230,000-dot LCDs,, and provide 720p HD movie recording with HDMI output. Olympus estimates battery life for the rechargeable Lithium ion battery at 240 shots.
Body size for the two cameras is nearly identical (3.9 x 2.5 x 0.94 inches / 98.3 x 636.6 x 23.9 mm for the Tough-80100, 3.8 x 2.5 x 1.0 inches / 96.7 x 64.4 x 25.8 mm for the 6020), with the 7.6-ounce (215g) 8010 slightly heavier than the 6.3-ounce (178g) 6020.
The Stylus Tough-8010 will sell for $399.99, the Tough-6020 for $299.99 starting in February.