February 15, 2005 — With ever-increasing megapixel counts in digital cameras, manufacturers are also increasing the capacities of their memory cards. Today, Olympus announced a 1 GB xD-Picture card and a portable card and USB reader and writer. Yesterday, Kodak announced several branded memory card formats up to 512 MB manufactured by Lexar. Both companies will release their cards and accessories in March and April 2005.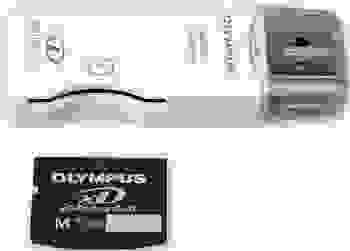 The Olympus 1 GB xD-Picture card uses multi-level cell technology, which doubles the amount of information that can be stored in a single memory cell. This card is the first type-M series card of xD media that employs this design. It measures 20mm x 25mm x 1.7mm and weighs 2 grams. Olympus also announced a USB reader and writer that also has a slot for xD-Picture cards in its side. The 2.5 x 0.75 x 0.38-inch drive has a white plastic body with a clear removable plastic top to protect the USB connector. The 14-gram device can attach to a key ring. The Olympus 1 GB xD card will be available in April and the drive in March. The price for the card is yet to be announced, but the USB drive will retail for $19.99.
Kodak announced three cards ranging in capacities from 128 MB to 512 MB: miniSD, MMCmobile, and Reduced Size MMC. The miniSD and Reduced Size MMC cards will be available in March, while the MMCmobile card will be available this summer. The first shipments will be to Europe, and other areas will follow.