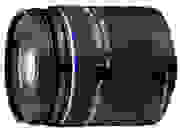 November 13, 2006 – Olympus Imaging Corp. announced today the Zuiko Digital ED 40-150mm f/4.0-5.6 lens, designed for four-thirds DSLR mounts. The lens will be available on November 23 in Japan.
The digital-specific 3.8x telephoto zoom lens promises to be lightweight and compact. "Zuiko Digital ED 40-150mm f/4.0-5.6 is the lightest and smallest lens in its class," stated the release. The Olympus 40mm-150mm lens is the length of a business card and weighs 220g (7.72 ounces).
The Zuiko Digital ED lens has 12 elements in 9 groups and 1 ED lens and contains high refractive index glass to prevent chromatic aberration, flare, and vignetting. The Olympus telephoto can focus at 90 cm throughout the zoom range.
Pricing has not yet been announced.