Olympus is introducing a brand new camera into its Japanese PEN lineup: the E-PL1s. The camera has nearly identical specs to the current E-PL1, but the new kit lens is smaller, lighter, and quieter.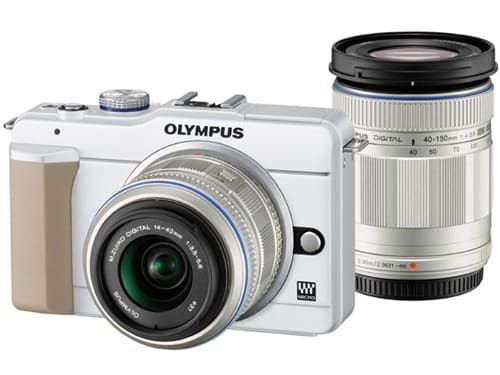 Changes to the camera itself are minimal: the ISO range has been extended up to 6400 and the main body color is more prominent—meaning there's less silver trim. We had some hands-on time with the white model, and we can confirm that, yes... it's a whole lot of white. The E-PL1s will also ship with a new battery; the BLS-5 is designed to comply with a new rechargeable lithium-ion safety standard.
The most important announcement, however, is the new M.Zuiko Digital 14-42mm II 1:3.5-5.6 kit lens. The lens is smaller and lighter than the original 14-42mm design: the entire kit weighs just 454g with lens, battery, and memory card. The 112g lens is 25% lighter than the kit lens that shipped with the E-PL1. What really has heads turning, however, is the internal focus mechanism in the new lens. This autofocus is newly designed to focus more quickly and more quietly, garnering Olympus' MSC (Movie and Stills Compatible) designation. With the new E-PL1s kit lens, consumers can record video and not mar the audio with a noisy autofocus.
The E-PL1s with the new Mark II lens is expected to hit the Japanese market in April 2011 for about ¥60,000 ($723) or ¥80,000 ($964) with a 40-150mm F4-5.6 lens. Color choices will be red, black, and white. During our time with the camera, we could see that the E-PL1s is just as slick as its predecessor... but not much different. The new model might never make it to the states, but even if it is the color of spilled milk, we won't be crying over it. The new lens, on the other hand, will likely receive a worldwide release—happy news for PEN fans far and wide.
You can read all about the new camera on Olympus' official E-PL1s site.