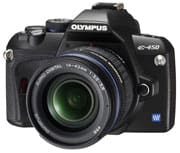 March 31, 2009 – Olympus today announced a new entry-level SLR, the E-450. This 10-megapixel successor to the E-420 will come bundled with both a 14-42mm (f/3.5 to f/5.6) and a 40-150mm (f/4.0 to f/5.5) lens for $699.99. Like the E-420, the E-450 is noteworthy for its small size and weight: it measures 5.09 x 3.05 x 2.08 inches (129.5 x 91 x 54mm) and weighs 13.4 oz (380g) without lens.
The E-450 has a 10-megapixel image sensor (maximum image resolution 3648 x 2736) and a 2.7-inch LCD. The Live View mode supports face detection (up to 8 faces). The camera also incorporates three of the six Art Filters seen on its big brother, the E-30. These (Pop Art, Soft Focus and Pin Hole) are digital effects that can be added to your images without need for a computer.
ISO range for the E-450 tops out at ISO 1600, while exposure compensation is available in an unusually wide +/- 5 EV. Olympus promises burst rate shooting at 3.5 frames per second.
The E-450 will accept Olympus-proprietary xD format memory cards, but also takes standard CompactFlash cards.  It is scheduled to ship in July of this year.