Olympus has announced two new compact ultra zoom cameras: the $250 18x SZ-10 and the $200 12.5x VR-320. The company also announced the VG-110, a $90 12-megapixel compact with a 4x zoom.
The SZ-10 is a compact camera, but it offers a long zoom range, going from a 28mm wide setting out to a 504mm telephoto. The camera also shoots 720p high definition video and has a large 3-inch LCD screen with a 460k pixel resolution. The camera offers sensor-shift image stabilization, and an electronic stabilization mode that increases the shutter speed to minimize blur. It also offers a 3D shooting mode that produces an image that can be viewed on a compatible 3D HDTV. Unfortunately, Olympus did not include the resolution of this camera in the press materials.It will be available in MArch for $249.99.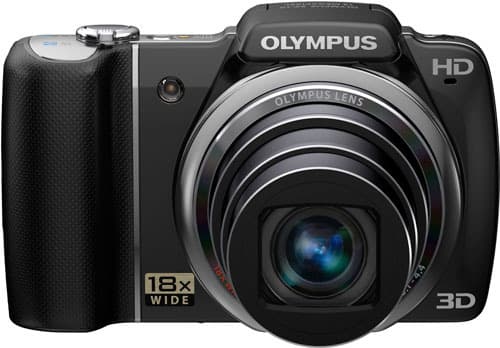 The VR-320 is a more fully featured mode that offers a 12.5x zoom lens with a very wide 24mm wide angle setting. This camera captures 14-megapixel images and 720p high definition video, as well as dual image stabilization (sensor-shift and electronic). As well as 14 scene modes, the camera also offers a new in-camera help guide, which offers guidance on camera settings and previews of the effect of controls such as exposure compensation. It will be available in March for a price of $199.99
The VG-110 is one of the cheapest models in the Olympus lineup: it costs just $89.99. It captures 12 megapixel images though a 4x zoom lens which offers a 26mm wide angle setting, but does not offer high definition movie capture. Like all of the Olympus lineup, this camera offers a selection of Magic Art Filters which produce effects such as fish-eye and soft focus. It will be available in February.