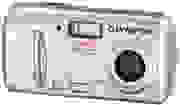 May 20, 2005 - After releasing the 4.0 megapixel D-425 earlier this spring, Olympus today unveiled the 5.0 megapixel D-435 that is like its predecessor in every way except for resolution and retail price of $169.
The D-435 will reach retailers shelves by August and sell for $20 more than the D-425. Everything from features and design, the D-435 is a twin the D-425. Olympus seems to hope the same low priced, uncomplicated camera but with a higher megapixel counts will lure more consumers.
'The D-435 is designed to make digital photography absolutely effortless for the novice user,' said Naoki Tai, product manager, Olympus Imaging America Inc. 'And with 5 megapixels of image resolution, this camera packs a lot of performance at a very affordable price.'
The D-435 is the same size as its predecessor, 4 x 2 x 1.4 and a light weight of 4.2 oz empty. The D-435's TFT color LCD measures 1.5 inches with a resolution of 85,000 pixels, just like the D-425.Additionally the D-435 has 10 shooting modes and 14MB of internal memory, with room for more via xD-Picture Card. A memory card is not included with the D-435.
The D-435 is a 4x digital zoom and a 6.1mm Olympus Zoom lens. Up to 30 fps can be captured in the D-435's movie mode. Aperture range for the D-435 is F2.8 with an ISO range between 50-250 in automatic. The D-435 has a shutter speed range between 1/1500 sec. — 1/2 sec. Flash choices for the D-435 include Auto (For low light and backlit conditions), red-Eye reduction, fill-in or off.
The D-435 is powered by two AA batteries or CR-V3, Ni-MH batteries. There is USB connectivity and PictBridge enabled.
The D-series of smaller, relatively inexpensive models, each with increasing resolution, seemingly have little in the way of improved or innovative features. Olympus has faced roughed financial times as of late and the compact, point-and-shoot is becoming a class of cameras which the manufacturer is having a hard finding winners. As a result, Olympus will reportedly move away from smaller, inexpensive in favor of high-end and more profitable digital SLRs.