Cameras
Olympus Displays Micro Four Thirds Concept Camera at Photokina
September 22, 2008 - Photokina 2008 attendees who were hoping for details on the first Olympus camera built to the Micro Four Thirds standard the company co-developed with Panasonic will be treated to a handsome concept camera, shown under glass, acco
*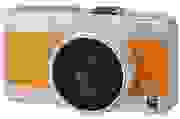 September 22, 2008 - *Photokina 2008 attendees hoping for details on the first Olympus camera built to the Micro Four Thirds standard the company co-developed with Panasonic will be
treated to a handsome concept camera, shown under glass, accompanied by an impressive
lack of specifics.
The Micro Four Thirds standard was established to create a new class of interchangeable
lens cameras that are smaller than traditional SLR models (see news story here) Micro
Four Thirds cameras eliminate the mirror and viewfinder found in a traditional SLR,
relying instead on Live View off the image sensor for photo composition and auto focus
systems. This can reduce the camera depth by as much as 50%. A smaller lens diameter
further encourages lilliputian designs. On September 9, Panasonic announced details of
its first Micro Four Thirds camera, the 12.1-megapixel Lumix G1 (see news story here), with
complete specs, though pricing and ship date won't be released until early October.
Olympus, on the other hand, says only that it is working on a Micro Four Thirds camera
for advanced amateurs that will inherit key features of the current E-series line, including
in-camera image stabilization and shutter speeds down to 1/8000 second. The new
camera will have an articulated LCD, and incorporate face detection and shadow
adjustment technologies. The concept camera on display measures 4.7' x 2.5' x 1.2', but
that doesn't necessarily reflect the final camera spec. Beyond that, the product name is
undecided, and the expected launch date is first quarter 2009.