Cameras
Olympus Gives the XZ-10 its North American Debut
The camera's surprise appearance at CP+ is finally backed up with confirmation that it's coming to America.
Olympus has finally pulled the curtain back on their mid-range travel zoom, the XZ-10. With a fast f/1.8-2.7 lens, a useful on-lens control ring, and a compact design, the XZ-10 looks to preserve the best qualities of the XZ-2 in a body that's roughly 40% smaller.
The new camera also features a 921k-dot rear LCD, offers RAW image capture, and can shoot at up to 15 frames per second. All very impressive in a body this small, to be sure. But there's always a catch, especially when it comes to miniaturization. In this case, the one hiccup in Olympus's plans to miniaturize the XZ-2 is likely to be sensor size.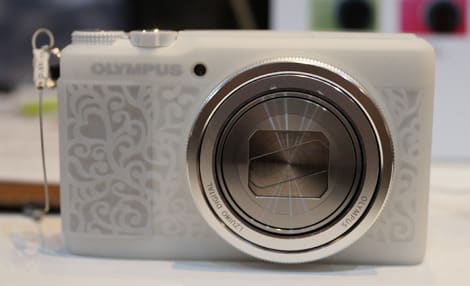 The XZ-10 has a decidedly unimpressive 1/2.3-inch CMOS image sensor, compared to the larger 1/1.7-inch sensors found in high-end compact cameras. The smaller sensor has one upside, though: the lens can zoom a little further than the XZ-2's. The XZ-10's 5x unit covers a 26-130mm equivalent range, which should be ideal for everyday use.
We caught up with the XZ-10 a few weeks back at CP+ in Yokohama, Japan. We found it to be a responsive, competent shooter with a great design and an impressively compact body. For a complete breakdown of all the XZ-10 has to offer, check out our full first impressions review right here.
The XZ-10 will debut in late March for an estimated retail price (Olympus's words) of $399.99. The camera is available in a multitude of styles and colors overseas, but it looks like North American consumers will have to make do with the usual black finish. Oh, well... black never goes out of style, right?
For the official word on the Olympus XZ-10 announcement today, head over to the Olympus America press center.