Cameras
Olympus Lets Loose the SP-820UZ iHS 40x Superzoom
Oly's latest superzoom goes long on the focal range, though a bit short on features.
Olympus just jumped into the late-August superzoom announcement extravaganza, unveiling the SP-820UZ iHS. It packs one of the longest focal ranges in the class, a 22.4mm-896mm equivalent lens, good for 40x optical zoom.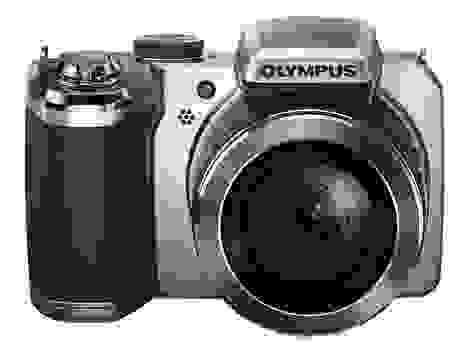 As the iHS tag suggests, it's built around a 14-megapixel CMOS point-and-shoot sensor, capable of 1080p HD video and burst speeds at 3 frames per second. Other vitals include a 3-inch, 460,000-pixel fixed LCD, optical image stabilization, and AA battery power.
Despite the massive zoom range and Olympus' assertion that it's their flagship, the SP-820UZ strikes us as more of a second-tier superzoom, along the lines of the Panasonic FZ60 or Canon SX500. There's no viewfinder or manual exposure control (let alone RAW capture), and it isn't quite as fast or chock-full of as many extras as top-tie (and more expensive) superzooms like the Panasonic FZ200, Nikon P510 (still the longest zoomer), Sony HX200V, Fuji X-S1, or Canon SX40 HS (which itself is due for a replacement). Of course, only proper lab testing will tell how it actually stacks up.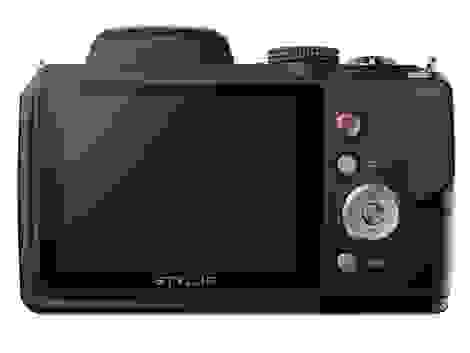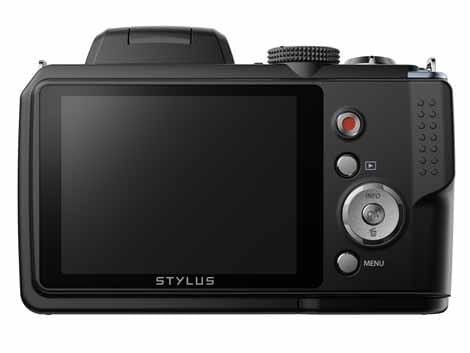 The news was first reported by European outlets, but Olympus America confirmed plans to release the full-size long-zoomer stateside as well. It will be available in September in black and silver for about $330.
Full specs are available at Olympus America's website, and the official press release is below.
Official Press Release
OLYMPUS STYLUS SP-820UZ iHS™ BREAKS THE GLASS CEILING WITH INCREDIBLE 40X SUPER WIDE-ANGLE OPTICAL ZOOM LENS
Capture Wider Group Shots and Sharper Close-Ups on the Go, Intelligent Technology Delivers Amazing Image Quality with Ease
CENTER VALLEY, Pa., August 22, 2012 – Olympus proudly unveils the new STYLUS SP-820UZ iHS, its flagship Ultra Zoom compact camera, and most powerful optical zoom ever! The Olympus SP-820UZ iHS magnifies subjects up to 40x to capture a level of detail and emotion normally possible only with an interchangeable telephoto lens. With Super-Resolution Zoom, the focus distance is doubled, enabling up to 80x zoom magnification. Beyond its incredible zoom power, bringing the action closer from hundreds of feet away without swapping lenses, the camera's impressive 22.4mm (equivalent to 22.4- 896mm on a 35mm camera) super wide-angle lens takes in sweeping panoramas, group portraits and up-close macro images, so sports fans, travelers and outdoor enthusiasts alike will enjoy maximum performance wherever they go.
The lightweight Olympus SP-820UZ iHS is compact enough to be an everyday travel companion with a sleek housing and ergonomic comfort grip engineered to help keep the camera steady even when shooting at high magnification – when shake can potentially ruin a great shot.
The camera's outstanding optics are matched by Olympus' advanced iHS (Intelligent, High-Sensitivity and High-Speed) technologies, a high-sensitivity 14-Megapixel CMOS sensor that combines with the TruePic V image processor for faster reaction times, radiant colors, and beautiful, sharp images of fast-moving subjects and low-light, backlit scenes. High-speed, adjustable-frame rate 1080p Full HD and High-Speed Video (240fps HSQVGA) recording captures video with the best image quality currently available in compact cameras*. Photo with video clip captures a video clip before, and after you take the shot. Dual Image Stabilization and Multi-Motion Movie Image Stabilization minimize camera shake even while the user is moving. Linear PCM audio recording, a technology pioneered by Olympus and incorporated in its line of professional audio recording devices enhances your videos with better-than-CD quality audio. With HDMI output and control, you can use your HDTV's remote to control playback functions and navigate the camera's menus from the comfort of your couch.
Powerful technologies are packed inside the Olympus SP-820UZ iHS to overcome challenging shooting situations. At night and in low-light, where image blur is more likely to occur, Hand-Held Starlight mode captures multiple images and stitches them together into a single, crisp, breathtaking photo without the use of a tripod. HDR Backlight Adjustment captures a collage of images at various exposure levels and blends them into one, perfectly exposed image. No time to fix your make-up before someone takes your picture with the SP-820UZ iHS? Olympus' Beauty Make-up mode will allow you to apply everything from eyeliner to eye shadow and blush.
The camera's Smart Panorama mode creates a spectacular, sweeping still photo automatically. When a photographer pans across a subject, a series of images simultaneously knit together (up to a 360° field of view). A host of creative in-camera Magic Art Filters like Pin Hole and Pop Art enable users to apply spectacular effects to all of life's adventures both with stills and in video mode. Eye-Fi® card compatibility and a 3.0" High-Resolution LCD screen makes it simple to share stills and HD videos seamlessly.
U.S. Pricing and Availability
The Olympus SP-820UZ iHS will be available in September, 2012, and ships with a Camera Strap, Protective Lens Cap, USB Cable, Audio/Video Cable, 4 AA Batteries, Quick Start Guide, Instruction Manual, OLYMPUS [ib] Software CD-ROM and a Warranty Card.
Estimated Street Price: $329.99 (Available in silver and black).
{:{PhotoGallery article.attachments}:}