*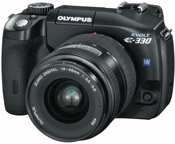 April 27, 2006 – *Olympus updated its EVOLT E-330 firmware yesterday, improving upon its famed live view among other changes. The 7.5-megapixel Olympus E-330 was released earlier this year and was the first digital single reflex camera to incorporate a live preview on the LCD screen.
The version 1.1 software upgrade can be downloaded from the Olympus web site at http://www.olympus.co.jp/en/support/imsg/digicamera/download/software/firm/e1/. This will improve the image quality of the live preview's B-mode when enlarged by 10x. The same live preview mode, also known as the macro live view, will also be made available in the underwater macro and underwater wide modes when the mode dial is customized. Lastly, the upgrade makes a few changes to the Korean language menus.
The Olympus EVOLT E-330 was announced in January and released in March. The DSLR uses Zuiko interchangeable lenses on its four-thirds system mount. The E-330 has a distinctive flat-top design that enabled Olympus to include the live preview. The LCD preview is possible because the E-330 uses two image sensors in the design – one for the view and the other for recording images. The Olympus EVOLT E-330 retails for $999 alone and $1,099 with a kit lens.