Cameras
Olympus Resurrects Stylus Line With High-End XZ-2
It's back! Olympus's dearly departed "Stylus" branding makes a bold return with the new XZ-2, a followup to the much-loved XZ-1.
After dropping the "Stylus" moniker back in 2011, Olympus went on to release perhaps the best compact digital camera in its entire history—the XZ-1. Built to rival the likes of Canon's S95, Samsung's TL500, and Panasonic's LX5, the XZ-1 was a huge success for Olympus and a big step back into relevance for its compact camera division. Now they're following it up with the XZ-2, which brings a host of upgrades and also reintroduces the Stylus line.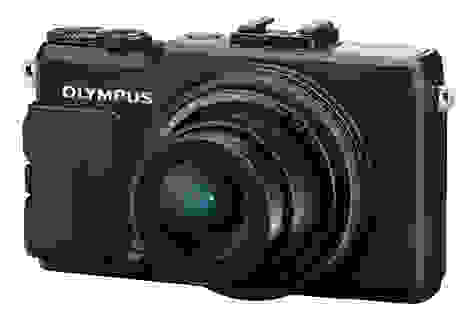 The Stylus XZ-2's impressive spec sheet is headlined by a new 1/1.7-inch backlit CMOS sensor packing in 12 megapixels, but in the wake of the Sony RX100 and its (comparably) massive 1-inch sensor, the new XZ's most head-turning features might lie elsewhere. To begin with, the 4x zoom lens covers a relatively conservative range of 6-24mm (or 28-112mm in 35mm equivalent), but its maximum aperture is exceptionally bright throughout—f/1.8 on the wide end and f/2.5 at maximum telephoto. Compared to some of the recent compact-class heavy-hitters, this is quite an achievement; in contrast, the RX100 only manages f/4.9 on the long end.
Another interesting feature is the "hybrid" lens control ring, which lets the user choose between "analog" (smooth) and "digital" (click-stop) rotation via a small switch on the front face of the camera. The ring's function is customizable for each rotation type, meaning that, for instance, you can set the analog rotation to manual focus and the digital rotation to aperture control.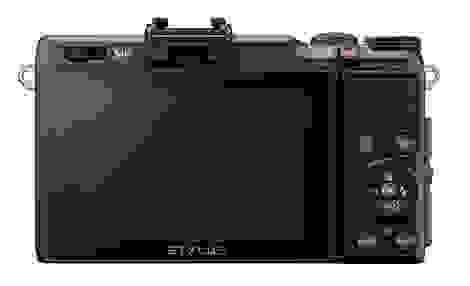 Other key specs include the same TruePic VI image processor you'd find in the OM-D, sensor-shift image stabilization, a gapless 3-inch capacitive touch LCD that tilts and swivels, a built-in neutral density filter for shooting with wide apertures in bright light, the company's traditional array of 11 "art filters," and swappable front grips that come in a variety of colors. Finally, the XZ-2 supports Toshiba's FlashAir SDHC cards, which have the ability to create a wifi hotspot for transferring files directly to computers and mobile devices.
A variety of accessories will be available beyond the swappable grips, including an underwater housing and three screw-on accessory lenses to provide extra macro and telephoto reach. The VF-2 and VF-3 electronic viewfinders, originally intended for the PEN series cameras, can also be used on the XZ-2.
Olympus expects the Stylus XZ-2 to be available in November for an estimated street price of $600.
---
THE OLYMPUS STYLUS XZ-2 iHS® TAKES THE COMPACT CAMERA CATEGORY TO THE X-TREME

*Point. Shoot. Be Amazed with an Ultra-Bright Lens, Ultra-Easy Operation and Ultra-High Image Quality, Making It the Powerhouse Compact for Serious Photographers_
CENTER VALLEY, Pa., September 17, 2012 – Olympus pushes the compact digital camera to a new X-treme with the introduction of the Olympus STYLUS XZ-2, its game-changing, flagship high-performance point-and-shoot. The STYLUS XZ-2 is a hybrid that combines optical brilliance, the manual controls of a DSLR and the unbeatable convenience of a lightweight compact in a body every imaging enthusiast should love. Inheriting the 4x optical / 4x Digital zoom iZUIKO® DIGITAL f1.8-2.5 large-diameter lens found on its predecessor, the award-winning Olympus XZ-1®, the Olympus STYLUS XZ-2 builds on its low-light performance with new features: the world's first hybrid control ring, customizing controls so ambitious photographers easily capture the shot; a new fast, touch-sensitive tilt screen; the powerful TruePic VI image processor; Full HD movie recording and FlashAir® compatibility to share images immediately on social networks.
The digital lens of the Olympus XZ-2 (iZUIKO f1.8-2.5 (28-112mm**), a 4x compact version of legendary ZUIKO Digital lenses, is designed for clear, high-quality photographic performance, whether set at its maximum f1.8 aperture for amazing wide-angle shots, or at f2.5 for 112mm** telephoto images. The result is expressive background defocusing and sophisticated bokeh, plus the flexibility to use short, blur-free exposure times in low light. The camera's iHS technology and the large-aperture lens work together to deliver high-sensitivity, low noise and blazing auto-focus performance that translates to the highest image quality of any Olympus compact camera.
The newly developed 12.0 megapixel, 1/1.7" high-sensitivity back-lit CMOS sensor, working with the TruePic VI processor, the same processor used in the Olympus OM-D E-M5™ system camera, provides faster recovery time and shutter release to capture images with true-to-life colors, rich details and low noise. To complement the speed of the f1.8 lens, the camera's low-light mode automatically adjusts the ISO sensitivity up to ISO 12,800 to take sharp, full-resolution photos in dim conditions, and an easily accessible built-in pop-up flash and AF illuminator brightens low-lit subjects, reduces red-eye and fills in dark areas.
The Olympus XZ-2 is equipped with the world's first hybrid control ring, built around the lens, which allows users to easily assign function settings to their preferences as well as switch between analog and digital operation of the ring. The digital operation provides a solid click on controls, whereas the analog operation offers a smooth, gliding feeling. When the Fn 2 lever next to the lens is placed downward, the ring around the lens switches to analog control so it can be used as a focus or a zoom ring. If the lever is placed at an angle, the ring around the lens switches to digital control to change exposure-related settings quickly and easily. This feature enables fine-tuning of the focus in macro, composition selection when shooting, and exposure adjustment all without looking away from subjects.
Basic operations and settings of the Olympus XZ-2, starting with touch controls and Live Guide, as well as a new graphic user interface will be familiar to Olympus PEN® and OM-D shooters. Instantly activate the Touch AF Shutter function to select the subject you want to focus on and activate the shutter simply by touching the swivel 3.0 inch, 920,000 dot LCD screen. The XZ-2 design is enhanced with a removable grip that offers the option for a sleek style grip, and metal is used throughout the body for a strong and sharp look.
The Olympus STYLUS XZ-2 is packed with additional technologies including DUAL IS, which combines with high-sensitivity shooting to reduce camera shake and subject blur, providing double image stabilization. HDR backlit correction captures multiple images with a single shot at different exposures and automatically merges them into one image, and Super Resolution technology expands zoom power up to eight times with minimal image degradation. iAuto mode automatically identifies up to 30 different scenes. The XZ-2 also features 11 Art Filters and 5 Art Effects that easily bring artistic visions to life.
In addition to superior still image quality, the 1080p Full HD Movie capability with stereo sound captures movies in the best quality currently available in compact cameras. Multi-Motion Movie IS image stabilization corrects for the common gradual camera shake that occurs when shooting on the move, delivering more stable, higher-quality movies. Beautiful movies can be shot even longer with a 1920 x 1080 High-Definition size and MOV/H.264 movie compression that has an excellent compatibility with computers.
The Olympus XZ-2 is also designed to make sharing your amazing images even easier. Using the smartphone connection function, simply set up a compatible Toshiba FlashAir SDHC card with an internal wireless LAN to make a Wi-Fi connection. With the Olympus Image Share smartphone application (to be released in September), easy image upload onto a smartphone via a thumbnail index, adding Art Filters to images on a smartphone, and sharing images on various social networking services is possible.
A wide range of creative and practical accessories is available to adapt the Olympus XZ-2 for specific needs, including three alternative grips in a variety of colors (red, beige and purple), a body jacket and underwater housing. There's also a sleek, matching black LC-63A lens cap that opens and closes automatically whenever you activate the camera. To expand the camera's versatility, the XZ-2 includes an accessory port for compatibility with a growing range of Micro Four Thirds® accessories.
U.S. Pricing and Availability

The Olympus STYLUS XZ-2 will be available in November 2012, and ships with a USB Cable, Video Cable, Li-Ion Battery Pack, Li-Ion Battery Charger, Shoulder Strap, OLYMPUS ib® software CD-ROM, Manuals and Registration card.
Estimated Street Price: $599.99 (Available in black)
For a complete list of specifications, visit the Olympus website:

http://www.olympusamerica.com/cpg_section/product.asp?product=1627&page=specs