Cameras
Olympus UK Drops EVOLT E-410 Price, Offers Cash Back Rebate
Olympus UK this week cut the price of the EVOLT E-410 digital SLR by £50 for any one of the three packages: the body, single lens kit, or dual lens kit. Additionally, Olympus is offering a £50 cash back offer, totaling £100 savings on the Olympus DSLR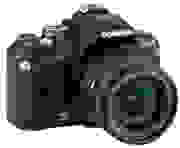 *Sept. 7, 2007* – Olympus UK this week cut the price of the EVOLT E-410 digital SLR by £50 for any one of the three packages: the body, single lens kit, or dual lens kit. Additionally, Olympus is offering a £50 cash back offer, totaling £100 savings on the Olympus DSLR with the price reduction. The rebate is valid for purchases made from Sept. 15 to Dec. 31, 2007.
The 10-megapixel Olympus EVOLT E-410 with Live View launched in March with an original price tag of £450 for the body. The new price for the body is £400, £450 for the E-410 Kit (with ED 14 to 42mm, f/3.5 to f/5.6 lens), and £550 for the Double Zoom Kit (with ED 14 to 42mm, f/3.5 to f/5.6 lens and ED 40 to 150mm, f/4.0 to f/5.6 lens).
Customers can find more information on the Olympus EVOLT E-410 cash back rebate on the Olympus UK website.