Olympus announced not one but three new cameras today, extending the PEN lineup into its fifth generation. The PEN E-P3, PEN Lite, and PEN Mini will use identical sensors, with varying body configurations and capabilities designed to appeal to serious photographers, enthusiasts, or everyday shooters. We've had our hands on the E-P3 production model for a couple weeks now, so be sure to check out TJ's review right here.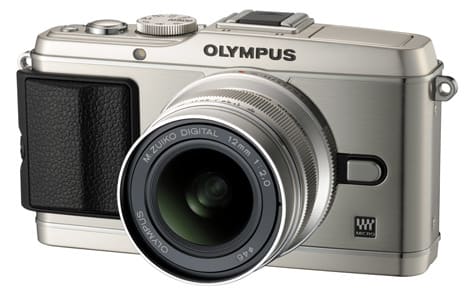 The Olympus PEN E-P3 will represent the PEN lineup's new flagship. Plenty of new technology has been added for this iteration, including a touchscreen OLED monitor, updated sensor and processing engine, and what Olympus is calling the "world's fastest" autofocus system.
They aren't kidding. The "world's fastest" claim includes even the highest-end DSLRs. During our time with the camera, we found this contrast-based system achieved focus instantaneously. 35 target areas are defined and selectable, and focus tracking has been improved by adding color signal tracking to the existing pattern- and contrast-tracking software.
The lineup's new 12 megapixel Live MOS sensor will support ISO levels up to 12800, as well as AVCHD video capture up to 1080i. A new version of Olympus' processing engine, dubbed TruePic VI, will also make its debut. Olympus claims the system is capable of improved reproduction of difficult colors like emerald green, smoother transitions across color gradients, and improved detail retention under backlit conditions.
The E-P3's new OLED monitor will measure three inches diagonally and offer high contrast, high frame rate live viewing. Touchscreen functionality will use a single-touch electrostatic method. Olympus has also overhauled their GUI for improved legibility and ease-of-use.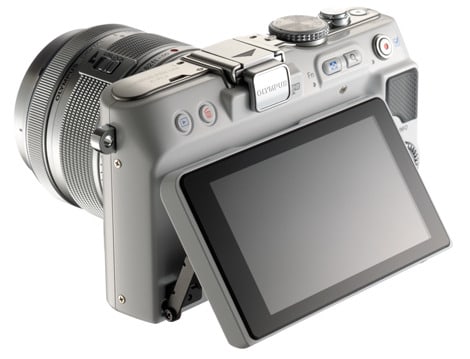 Olympus' "PEN Lite" will be a more compact version of the E-P3, key features include a tilting widescreen LCD monitor and high speed continuous shooting. This camera, known as the E-PL3 will be 25% smaller than its predecessor, despite the inclusion of a tilting 3-inch LCD.
The company designed a new shutter system to fit this downsized body, and the result is improved burst performance. The E-PL3 will support sequential shooting equal to 5.5 frames per second with image stabilization disabled.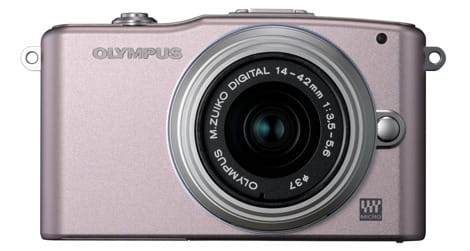 Olympus' last new camera today, the "PEN mini," or E-PM1, will be a simple, lightweight camera designed for casual shooting. A simplified user interface and Olympus "Live Guide" will allow users to control exposures without a hardware mode dial. Instead, according to the company, the interface is more akin to a TV remote control. A removable flash accessory will also be available.
As if this weren't enough, Olympus will also be adding some new lenses to its lineup. First, a high-end 12mm f/2.0 street shooting lens with a new "snapshot focus" mechanism. This feature moves the focusing position to a preset distance when the user pulls the focus ring toward the camera's body. Olympus will also introduce a more affordable 45mm f/1.8 "family portrait" lens which the company hopes will allow SLR-quality depth of field effects.
Two of Olympus' existing lenses, the 14-42mm f/3.5-5.6 and the 40-150mm f/4.0-5.6, will receive cosmetic updates to match the physical design of the newly announced cameras. These lenses will not have their configuration or performance otherwise altered.
Finally, Olympus will introduce a new electronic flash accessory, the FL-300R, which supports bounce and macro shooting, wireless flash, and an automatic tilt mechanism.
{:{PhotoGallery article.attachments}:}