Cameras
One Galaxy: Samsung to Merge Mobile and Camera Business Divisions
A new corporate shakeup at Samsung continues the company's trend of tightly integrated imaging and mobile technologies.

Credit:
News broke out of Korea last week that Samsung will reconfigure its corporate business-to-business leadership, bringing the imaging business division under the leadership of it mobile business unit. The move seems focused primarily on Samsung's B2B relationships, in hopes that being under one umbrella will yield better mobile camera solutions while also helping the imaging business grow its market share.
The reorganization apparently took place on December 11th, according to the original report from Korea's ETNews.com. Several regional managers within the company were reassigned, though the report maintains that Samsung's current three-pronged business setup will remain, separating its operations into three areas: Consumer Electronics, IT, and Mobile.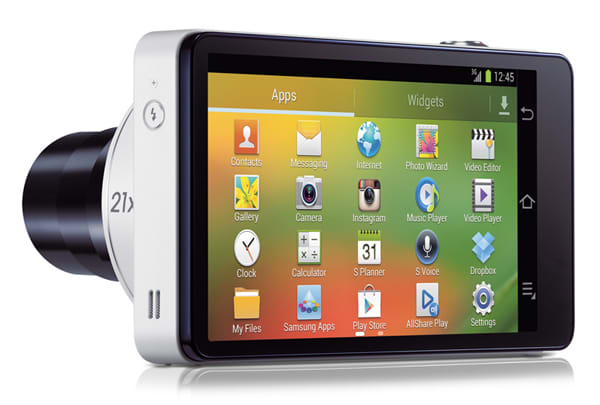 The digital imaging business unit will be moved under the leadership of the mobile and IT departments in a bid to bolster the mobile team's understanding of imaging technology. The original report also states that the move will help the imaging business division, giving them access to the relationships and experience that have made the mobile business division successful in recent years.
Given that this move is separate from Samsung's consumer electronics division, it's unclear if there will be any impact on future products. The consumer electronics division already has seen a number of collaborations between Samsung's imaging and mobile technologies. Samsung recently released a variety of cameras featuring the Android mobile operating system, as well as the S4 Zoom, a variant of the Galaxy S4 Mini boasting a 10x optical zoom lens.
It's possible this move could pave the way for an increasing presence of Android on Samsung's cameras.
For consumers, it's possible this move could pave the way for an increasing presence of Android on Samsung's cameras, as we've seen with this past year. However, this could also purely be a decision that affects Samsung's business as a supplier of chips for other manufacturers, which could lead to Samsung's mobile image sensors simply winding up in more smartphones from competing manufacturers.
Either way, the move is emblematic of the imaging's world increasing integration with mobile technology. With the compact camera market falling on seriously hard times in 2013, it may not be long before we see similar moves across the industry.
We've reached out to Samsung for official word on the move, though we hadn't heard back as of press time.