Cameras
Outdoor Portrait Gallery Launched in NYC
Eight hundred people posed for portraits in support of the renovation of the High Line, a 1.45-mile elevated rail structure in Manhattan's West Side being transformed into a park. The portraits, taken by fashion photographer Tom Kletecka, will be displa
June 20, 2007 – Eight hundred people posed for portraits in support of the renovation of the High Line, a 1.45-mile elevated rail structure in Manhattan's West Side being transformed into a park. The portraits, taken by fashion photographer Tom Kletecka, will be displayed in makeshift outdoor art galleries surrounding the park. The High Line Portrait Project was organized by the Friends of the High Line (FHL) and funded by a $50,000 donation from Fujifilm, according to a Fuji press release this week.
When FHL was formed by two neighborhood residents in 1999, the High Line was set to be demolished. The elevated railway was constructed in the 1930s as an alternative to ground trains but discontinued service in 1980. After years of work, the first section of the park is set to open in 2008.
'Set atop an out-of-use freight rail trestle, the High Line will be a park like no other. It shows the creativity and innovation that makes New York City great,' said FHL Co-Founder Robert Hammond in the release. 'What started as a few people's dream turned into a community project, gained worldwide support and is finally becoming a reality. The High Line shows what can happen when we dream big.'
The portraits were taken by fashion photographer Tom Kletecka, who has worked for Marc Jacobs, Travel + Leisure magazine, and Cartier. Kletecka volunteered to photograph the High Line supporters, each who shared his or her dream. Their portraits and answers are also featured online at thehighline.org/portraits.
The Portrait Project is not the first Fuji-funded High Line community event. Last summer, Fuji sponsored a community-based initiative, supplying QuickSnap one-time-use cameras to 200 children to photograph interesting and important subjects. The gallery was then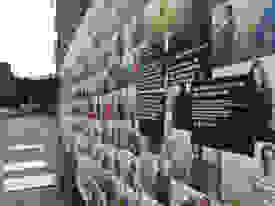 displayed in Chelsea Market and also available online at thehighline.org/gallery/cameraproject. **

**
'The need to find, protect or create greenways, particularly in such a unique, visual way is so important as part of a global effort to maintain a balance with the environment,' said Fujifilm Vice President Camilla Jenkins of Corporate Communications in the release. 'The ideals and project fit perfectly with Fujifilm's global commitment to preservation, conservation and community cultural efforts. This effort has succeeded tremendously already and we hope this project will remind other companies and individuals that there continues to be a great need for community support for the High Line now and into the future.'
The Portrait Project galleries are located at Gansevoort and Washington Streets, 18th Street between 10th and 11th Avenues, 10th Avenue at 18th Street, and 10th Avenue at 30th Street.