Las Vegas, Nevada, January 4, 2006 – At the 2006 Consumer Electronics Show in Las Vegas, Panasonic released the Lumix DMC-LZ5 and the Lumix DMC-Z3, two compacts with 6x optical zoom lenses. Both the 6.0 megapixel Panasonic DMC-LZ5 and the 5.0 megapixel DMC-LZ3 are slated for availability in March; the DMC-LZ5 will enter the market at $279.95, while the DMC-LZ3 will be originally priced at $229.95.
According to Monica Helmer, national marketing manager for Panasonic's Optical Group, "The DMC-LZ5 and DMC-LZ3 provide consumers with features that are easy to understand and use, but that don't compromise on capability." Helmer adds, "And while these are compact cameras, the 6x optical zoom and MEGA Optical Image Stabilization give users the tools that are usually available only in larger and more expensive cameras."
The cameras are extremely similar. Both imagers use a Panasonic Venus Engine Plus processor and include Panasonic's proprietary Mega Optical Image Stabilization system, which adjusts the lens to compensate for hand-shake and helps in low light and telephoto shooting. Both the LZ5 and the LZ3 also include Lumix DC Vario 6x Optical Zoom lenses with 8 elements in 7 groups, 2 aspherical lenses, and 3 aspherical surfaces. Their variable focal lengths are the same, equivalent to 37-222mm (35mm format), and so are their aperture ranges. Each camera can open from f/2.8-f/5.6 in its widest setting to f/4.5-f/9 in telephoto.
Both the LZ5 and LZ3 have a total of 14 scene modes for more casual shooters, in addition to Panasonic's auto mode or "Simple Mode." Four color effects modes are also included: black and white, cool, warm, and sepia. White balance options include daylight, cloudy, and halogen presets, along with a custom set option and an automatic setting. Judging by the ISO range offered on each camera—there are ISO options of 80, 100, 200, 400, and 800-1600 in "High Sensitivity Mode"—these models should provide an improvement over previous Lumix models in low light shooting.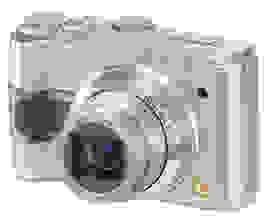 Unfortunately, initial specs from Panasonic also indicate that the resolution on both cameras' LCDs is the same as well—a substandard 85,000 pixels—which will likely make images look pixilated on both the LZ5's 2.5-inch TFT LCD screen and the LZ3's 2.0-inch display.
Both cameras have 14MB of memory, SD memory card compatibility, and USB ports for image file transfer. The LZ5 and LZ3 come with Panasonic's Oxyride AA batteries, though both can also accept regular alkaline AA batteries. Both cameras weigh roughly half a pound with batteries and memory card and measure 3.92 x 2.44 x 1.77 inches.
The differences between the models are extremely minor. Panasonic points out that the models differ in some physical features, image sensor and megapixels, recording image size, burst modes, and battery life. The DMC-LZ5, which comes in choice of silver or black, has a 6.37 megapixel CCD and can record images in JPEG format with audio. In contrast, the LZ3 comes in a silver casing only and is backed by a 5.36 megapixel CCD that will record stills in JPEG format with no audio. The LZ5's Burst Shooting Mode, according to Panasonic, offers maximum of 6 images in "Fine Mode." The LZ5 has a battery life of 235 images.