Panasonic has announced the DMC-GF2, an update to their Micro Four Thirds format GF1 camera. This updated version shrinks the camera body and adds a new video mode that supports capturing Full HD video at a 1920 by 1080 pixel resolution at 60 interlaced frames per second.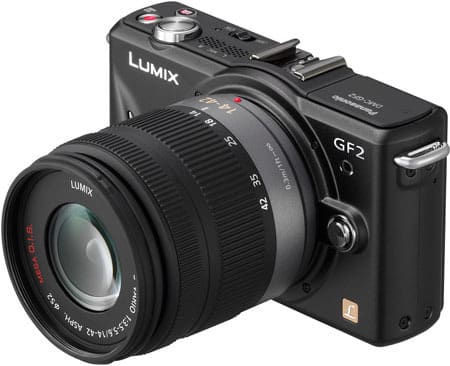 The company claims that the GF2 is their smallest interchangeable lens camera with a reduction in size of 19 per cent and 7 per cent in weight from the GF1. The body is just 1.29 inches thick, 2.67 inches high and 4.44 inches wide. The interchangeable lens adds some bulk to this, but the camera is still easily carried in a small bag or coat pocket.
Like all Micro Four Thirds format cameras, the GF2 does not use a mirror mechanism: the preview image is captured directly from the sensor. The still resolution of the GF2 remains unchanged at 12.1 megapixels, and the camera still uses a Live MOS sensor that they claim combines the quality of a CCD with the low power usage of a CMOS.
The new GF2 also adds a touch screen control, with a 3-inch, 460k pixel LCD on the back of the camera body. Panasonic claim that this new touch screen makes the camera easier to control by simplifying the user interface: a user can switch the camera to portrait mode by touching a face on the preview, for instance. No viewfinder is included, but an optional electronic viewfinder will be offered. This plugs into the hot shoe and the socket behind it. A small pop-up flash is built into the camera body, but a more powerful external flash is also available: the FL220.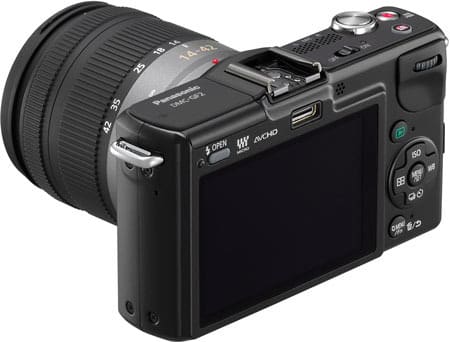 No pricing details were released, but the company did claim that the camera will be released in January 2011, with two kits being available: the camera plus a 14mm f/2.5 lens or a 14-42mm zoom. The new camera will also be compatible with the recently announced 12.5mm 3D lens.