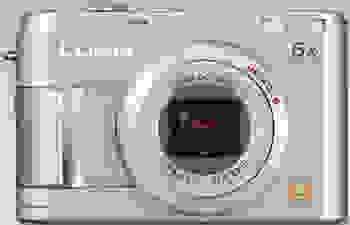 February 8, 2005 – Panasonic expanded its Lumix line of digital cameras today, with the announcement of the Panasonic Lumix DMC-LS1. The 4-megapixel camera has a 3x optical zoom lens with image stabilization. The LS1 packs extra features, such as 14MB of internal memory and live histograms. For $229.95, the camera will be available in April.
This Lumix has a 4.2-megapixel 1/2.5-inch CCD that works together with an energy efficient Panasonic Venus Plus imaging processor. Still photographs can be captured at five resolution settings, including an HDTV-optimized setting. With the new imaging processor, pictures can be taken up to 4 frames per second until the memory card is full. This unlimited capacity is also available in the movie mode, which records 320 x 240 pixels at 30 or 10 frames per second. The image stabilization certainly enhances the movie clips, however, there is no audio.
The Mega Optical Image Stabilization has two modes; the first follows movements continually and compensates for them. The second mode adjusts for the user's shaking hands. The Panasonic Lumix DMC-LS1 also has several scene modes: Portrait, Night Portrait, Sports, Scenery, Night Scenery, Fireworks, Party, and Snow. White balance fine tuning is available from -1500 to +1500 degrees Kelvin. At 6.6 ounces, this Lumix DMC-LS1 won't have a viewfinder, but will have a 2-inch LCD screen on the back of the 3.7 x 2.5 x 1.2-inch camera.
Look for the camera in April for an estimated price of $229.95 (USD)