February 8, 2005 — Panasonic debuts its new line today, with the announcement of the Panasonic Lumix DMC-LZ1 and DMC-LZ2. Both cameras have optical image stabilization features on their 6x optical zoom lenses. The LZ1 has four megapixels, while the LZ2 boasts five megapixels on its 1/2.5-inch CCD.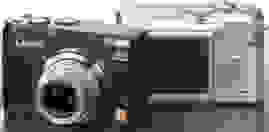 The 5-megapixel LZ2 has a black body with a lens equivalent to 37-222mm. The camera employs a Panasonic Venus Plus imaging processor, which uses 50 percent less energy than Panasonic's previous processor. In the Standard shooting mode, the LZ2 shoots 4 frames per second until the SD memory card or 14MB of internal memory is full.
The 320 x 240-pixel movie mode shoots at either 10 or 30 frames per second with audio. There is an included image stabilization feature that compensates for hand shake in one mode and erratic movements in the second mode. This camera aims not only to please video enthusiasts, but beginners as well. The Lumix LZ2 has a Simple mode, which automates all of the settings except the zoom. Eight available scene modes and a Help menu also aid the beginning photographer.
The 4-megapixel LZ1 has a silver-colored camera body and similar modes and functions as the LZ2. Besides having less resolution, the other distinction is the audio feature in movie mode. The LZ2 records audio, while the cheaper LZ1 does not. The Lumix LZs have the same 64-400 ISO range, 8-1/2000th of a second shutter speed range, and f/2.8-f/9 aperture range. Both also have a white balance menu with five options, including a Manual option with Kelvin temperature adjustments.
Both cameras lack optical viewfinders, opting to use their 2-inch LCD screens instead. The Panasonic Lumix DMC-LZ1 and DMC-LZ2 both measure 4 x 2.5 x 1.3 inches and weigh 7.9 ounces with the battery. The cameras will be available in March 2005; the LZ1 will retail for $249.99 and the LZ2 will retail for $299.99.