Cameras
Panasonic debuts Lumix SZ7 and SZ1 point-and-zooms
Two thin, 10x-zooming point-and-shoots to replace the popular FH double-digit series.
Panasonic debuted two new long-zoom, ultra-compact cameras at CES today. Dubbed the SZ7 and SZ1, these point-and-zooms sit in the middle of Panasonic's current Lumix lineup and are aimed at casual photographers who could use some extra reach in their everyday cameras.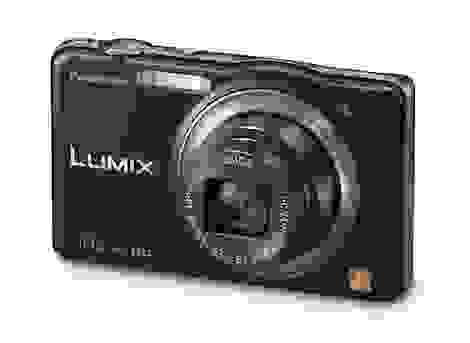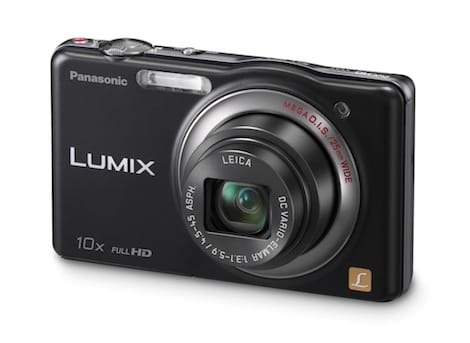 The SZ series replaces the double-digit FH models—last year's FH25 and FH27, both of which offered 8x zooms in pocket-sized packages. The SZ7 and SZ1 extend the zoom range out to an even 10x (25-250mm equivalent), and their profiles are even slimmer than their predecessors.
Of the duo, the SZ7 is by far the more capable and exciting shooter. It's built around a redesigned 14.1 MOS sensor (a different one than the ZS10, for anyone keeping track), apparently capable of supporting speedy burst shooting, in-camera HDR, sweep panoramas, full HD video, and so-called "Light Speed" autofocus. MOS sensors generally offer better low-light quality than their CCD counterparts as well.
A few years ago, the SZ7 would've been the top compact zoom in any manufacturer's lineup. It's much more serious than the FH25, and more reminiscent of the first speedy CMOS-based compact zooms that came out in mid-2010. Panasonic hasn't yet announced pricing, but it should be around the $200-230 mark. It will be available in black this spring.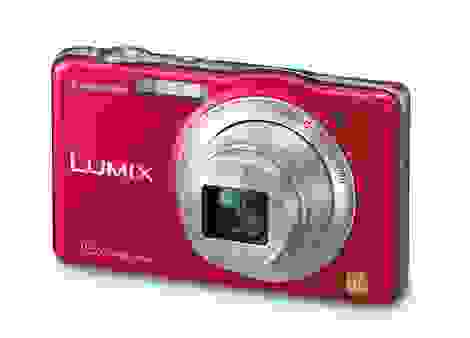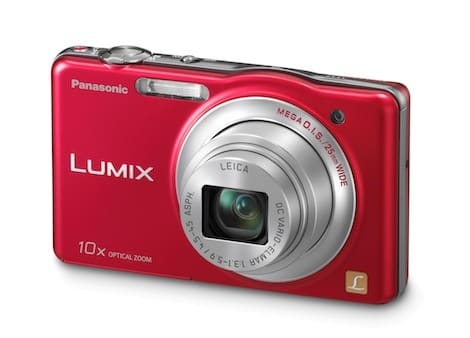 The SZ1 is based around a slower, less-exciting CCD sensor, so it should perform more like a typical budget point-and-shoot that happens to have a long zoom slapped on the front. No info on pricing yet, but it will be available this spring in black, silver, red and blue.
Panasonic does not plan to release touchscreen versions of either camera, as they had in years past.
Official press release:
**PANASONIC INTRODUCES ULTRA-SLIM LUMIX DIGITAL CAMERAS WITH 10X OPTICAL ZOOM AND WIDE-ANGLE LEICA LENS*
New LUMIX SZ7 and SZ1 Digital Cameras Offer HD Video and 25mm Wide-Angle Lens in a Compact Body Designed to be Portable and Easy-To-Use
LAS VEGAS, NV (January 9, 2012) – Panasonic today introduced the new LUMIX SZ-Series of digital cameras, the LUMIX DMC-SZ7 and the LUMIX DMC-SZ1, which combine a powerful 10x optical zoom with a 25mm ultra-wide angle LEICA DC VARIO-ELMAR lens, in a slim and compact body, making it extremely portable and easy to carry. The LUMIX SZ7 (14.1 megapixels) can also shoot full-High Definition, 1920 x 1080 60i videos and with Light Speed AF, it has a super-fast focus response time of approximately 0.1 second – making it easy to capture spontaneous must-have photos. The LUMIX SZ1 (16.1 megapixels) features 720p HD video recording capabilities, and both models are easy to use thanks to Panasonic's popular

iA (Intelligent Auto) mode which automatically chooses the best camera settings for natural, beautiful images.
"As more and more people revert to their smartphones because of convenience to take spur-of-the-moment digital photos, Panasonic is introducing two digital cameras that are not only small and compact, but also offer high-end imaging features such as a wide-angle LEICA lens, extremely fast Auto Focus speeds, and High Definition video, giving the consumer outstanding

image quality," said David Briganti, Senior Product Manager, Imaging, Panasonic Consumer Marketing Company of North America. "Panasonic's SZ7 and SZ1 are extremely compact in size, but offer features that are typically only available in much larger digital cameras, such as a 10x optical zoom, and with new features such as Panorama Shot and Miniature Effect, the SZ-

Series is also fun to use."
The LUMIX SZ7 and LUMIX SZ1 feature two new shooting modes – Miniature Effect and Panorama Shot. In Miniature Effect mode, the peripherals are defocused while saturation and contrast is emphasized to make the picture like a diorama. Video recorded in Miniature Effect mode is played back in 10x fast-forwarding, making it comical and fun to watch. Panorama

Shot makes it possible to shoot a horizontal or vertical panoramic image by taking consecutive shots and then overlaying the photos for the effect of a panoramic photo. Furthermore, both the LUMIX SZ7 and LUMIX SZ1 feature Creative Retouch which includes six filters -Toy Effect, Soft Focus Dynamic Monochrome, Expressive, High Key and Retro, each of which give the

photo a more artistic look. Both models also feature an Auto Retouch function that adjusts contrast and brightness to give the photo a different look – all with a single press of the button.
To help ensure the LUMIX SZ7 and SZ1 are easy to use, both digital cameras feature Panasonic's popular iA (Intelligent Auto) mode. In iA mode, a suite of technologies are automatically engaged and the camera chooses the best setting based on the shooting environment. For instance, iA includes the new High Dynamic Range (on the SZ7 only), Intelligent Handheld Nightshot (on the SZ7 only) and Motion Deblur (on the SZ7 only) together with AF Tracking, Intelligent ISO Control, MEGA O.I.S., Face Recognition (on the SZ7 only)/Face Detection (on the SZ1 only), Intelligent Scene Selector and Intelligent Exposure.
Pricing and 2012 availability will be announced approximately 30 days prior to shipping. The LUMIX SZ7 will be available in black and the LUMIX SZ1 will be available in black, silver, red and blue. For more information, and live coverage on January 10-11 from Panasonic at the 2012 International Consumer Electronics Show, please visit www.panasonic.com/CES. Plus, follow Panasonic's CES activities on Twitter @PanasonicEvents and join the conversations.*
{:{PhotoGallery article.attachments}:}