Cameras
Panasonic Enters Touch-Screen Market with Lumix FX500
Panasonic has just announced the DMC-FX500, a new point-and-shoot camera that includes a touch-screen LCD. The FX500 follows the trend seen on cameras by Sony, Pentax, and Kodak of moving controls onto a touch screen instead of dials and buttons. The FX50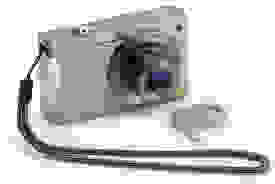 March 18 –  Panasonic has just announced the DMC-FX500, a new point-and-shoot camera that includes a touch-screen LCD. The FX500 follows the trend seen on cameras by Sony, Pentax, and Kodak of moving controls onto a touch screen instead of dials and buttons. The FX500 features 10.1 megapixels, a 5x optical zoom lens, High Definition recording and Panasonic's Mega O.I.S. (optical image stabilization). It will retail for $399.95 when it is released in May.
Panasonic claims that the touch-screen interface will be easier to use than buttons and dials. "With the FX500's touch-screen operation, we are giving our consumers a new interface that we think will prove extremely intuitive during playback, photo organization and of course – helping to take high-quality photos," said Alex Fried, National Marketing Manager, Imaging, Panasonic Consumer Electronics Company.
The 3-inch, 230,000-pixel screen can be controlled by touch, by a joystick on the back of the camera, or using a stylus pen included with the FX500. On-screen sliders are used in Manual modes to adjust aperture and shutter speeds, and autofocus and exposure can also be controlled by touching the subject displayed on the LCD. The touch-screen is enabled in the Playback mode as well, allowing users to scroll through their images on the LCD or use an on-screen keyboard to edit titles for images.
The FX500 has a 5x optical zoom 25mm wide-angle lens, capturing a greater area than traditional 35mm lenses. Optical image stabilization moves the lens when it detects hand shake to reduce blur in images.
The FX500 features iA, Panasonic's Intelligent Auto mode, for beginners. In this mode, users can still make some adjustments, including autofocus, using the touch screen. An autofocus mode called AF Tracking keeps focus on a subject if it moves, even after the focus has been set using the touch screen.
The FX500 also includes the same Intelligent ISO mode seen on previous Panasonic models, which automatically adjusts ISO and shutter speed based on movement, and Intelligent Scene Selector, which senses shooting conditions for Scenery, Portrait, Macro, Night Portrait, or Night Scenery modes and automatically sets controls without making users select the scene on the mode dial. Intelligent Exposure also automatically controls brightness, backlighting, and flash to make sure images are properly exposed.
Panasonic's face detection technology is included on the FX500 – up to 15 faces can be detected and tracked as they move around the LCD screen.
The FX500 can also capture 1280 x 720p HD video and still images in 16:9 aspect ratio. It runs on a rechargeable lithium-ion battery that gets a reported 280 shots per charge, and accepts SD/SDHC, and MultiMediaCard memory.
When released in May for $399.99, the FX500 will be available in silver and black.