Cameras
Panasonic Launches Wi-Fi-Enabled Lumix TZ50
April 15, 2008 - Panasonic today launched the Lumix TZ50, a Wi-Fi-enabled point-and-shoot with a whopping 460,000-pixel resolution LCD screen. The 9.1-megapixel Lumix has a 28mm wide-angle lens, optical image stabilization, 10x optical zoom, and can recor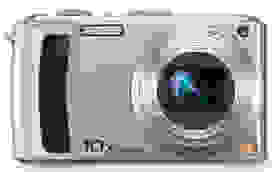 April 15, 2008 - Panasonic today launched the Lumix TZ50, a Wi-Fi-enabled point-and-shoot with a whopping 460,000-pixel LCD screen. The 9.1-megapixel Lumix has a 28mm wide-angle lens, optical image stabilization, 10x optical zoom, and can record HD video. The TZ50 will retail for $449.95 when it is released in May.
The Lumix TZ50 can upload one or multiple photos automatically to Picasa, Google's web-sharing site. The camera can connect to home wireless networks and also comes with one year of free T-Mobile Hotspot wireless service, featured in more than 8,800 public locations throughout the U.S. Users can view their images online using the camera's 3-inch, 460,000-pixel LCD screen. The high resolution of the TZ50's LCD beats the 270,000-pixel standard found on most modern point-and-shoots.
The TZ50's wide-angle 28mm lens (28-2800mm in 35mm equivalent) is able to capture wider scenes than normal 35mm cameras. It can record HD video in 720p format, and outputs HD video and stills for viewing on an HDTV.
The newest Lumix point-and-shoot also features Panasonic's Intelligent Auto mode, which automatically adjusts settings for users who don't want to mess with manual controls. Intelligent Exposure automatically adjusts exposure, Digital Red-Eye Correction prevents annoying red eyes in photos, and Intelligent ISO automatically adjusts the sensitivity and shutter speed based on shooting conditions. An Intelligent Scene Selector automatically detects and changes settings for Scenery, Portrait, Macro, Night Portrait, or Night Scenery modes without having the user switch to that mode. In addition, Continuous AF maintains focus on a subject without the user pressing the shutter button down halfway, minimizing the time between when the shutter is pressed and the image is captured.
Face detection detects up to 15 faces in a single shot, and optical image stabilization shifts the lens element inside the camera to reduce blur in images due to camera shake.
The TZ50 features Panasonic's new Venus IV image processor, which, according to Panasonic, improves noise reduction and improves image quality over the older Venus III.
The DMC-TZ50 will be released in silver in May.