At today's CES press conference, Panasonic unleashed the latest in its ultra-slim Lumix cameras: the DMC-FP7, DMC-FP5, DMC-S3, and DMC-S1. These four new cameras give users a number of choices in ease-of-use, stylish design, and compact size.
The FP7 sits at the top end of Panasonic's entry level Lumix cameras. With a 16.1-megapixel sensor and 4x optical zoom lens, and sleek mirror finish, the FP7 is definitely for the more style-conscious camera enthusiast. On the back of the camera, it's hard to miss the huge 3.5-inch widescreen touch LCD.
The FP5 has a more modest, 14.1-megapixel sensor, but it shares the same 4x optical zoom lens and Venus Engine VI image processor. The matte finish is a bit more subtle than the mirror finish of the FP7 and the 3.0-inch touch LCD isn't quite as massive as that 3.5-inch LCD.
The S1 and S3 focus more on ease-of-use and affordability. Like the FP-series, these two cameras offer 720p HD video and loads of auto features.
Each model will be available in a variety of colors, including blue, red, violet, pink, and gold. Prices and ship dates for these four new Lumix cameras are yet to be announced.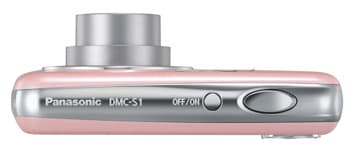 ** ** *
LAS VEGAS, NV (January 5, 2011) – Panasonic today introduced two ultra-slim LUMIX models to its 2011 line, perfect for consumers seeking a fashionable camera with loads of advanced photo and video features. The LUMIX DMC-FP7 (16.1 megapixel) and LUMIX DMC-FP5 (14.1 megapixel) maintain their slim profiles by incorporating an ultra-thin 4x optical zoom lens**** with folded optics. Complete with a sleek mirror finish on the LUMIX FP7 and a matte finish on the FP5, both cameras have high-performing features that complement the design, such as 720p High Definition (HD) video recording, large touch-control LCDs and easy-to-use settings like Intelligent Auto (iA).
"Panasonic's LUMIX FP-Series is perfect for the style-conscious consumer who cares about the look of the digital camera as much as the stunning images it captures," said David Briganti, Senior Product Manager, Imaging, Panasonic Consumer Electronics Company. "Panasonic is committed to incorporating user-friendly features that make taking high-quality photos easy. For example, by incorporating the popular iA setting, allowing users to have confidence that the right setting is engaged, without having to change it themselves. And we are always adding creative, interesting options like the new Beauty Retouch mode on the LUMIX FP7 which takes advantage of the popular and easy-to-use touch-control operation to retouch faces in photographs."
The LUMIX FP7 takes Panasonic's touch-control LCD to the next level with a new 3.5-inch 16:9 LCD that offers not only a larger view of images, but also increased usability. The LUMIX FP5 features a 3.0-inch 3:2 LCD and both models include Smart Touch Screens allowing users to enable Touch Auto Focus (AF), Touch Zoom, Touch Shutter and Intelligent Scene Selector simply by touching the screen. All menu setting options are now available with touch control and in playback mode users can drag the image across the screen with their finger to browse the collection of photos, as though it is a page in a book. Additionally, the LUMIX FP7 features three new modes that let users get creative by manually (with the touch of a finger) editing their photos.
To read the full press release (or a press release for the S-series cameras), please visit www.panasonic.com/CES.
{:{PhotoGallery article.attachments}:}